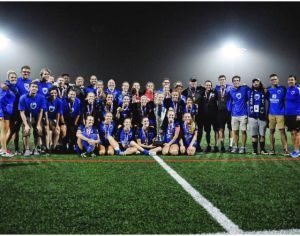 This summer, I had the pleasure of going back to my hometown of Grand Rapids, MI to intern with my hometown soccer team the Grand Rapids Football Club. It all started with a Facebook post by the team. They threw out a post on their facebook page that they were looking for interns, I submitted my resume and before I knew it, I was hired by Matt Roberts, the President of the team.
The actual work of being an intern for GRFC was fairly laid-back, but I still found it to be very worthwhile and relevant to the sort of work I'm hoping to do post-graduation. During game days, I would assist fan relations in a number of ways including putting up on-field advertisements, assisting in a guest hospitality booth, ticket sales, and my personal favorite, halftime promotions. Trust me, throwing tee shirts into crowds is every bit as fun as it looks. Usually at half time, the bulk of our work is done and the interns got to watch the second half of the game before going home.
Throughout the summer, I also did several community outreach events. One in particular that I remember was during a 5k run downtown near the Van Andel Arena area. Before and after the event, I had the opportunity to talk with many runners and community members about the team, show them our schedule, and share some upcoming promotions that the soccer team announced, including a game at Fifth Third Ballpark against Detroit City FC. The interpersonal communication aspect of CCM has always been my favorite, so I thoroughly enjoyed this part of the job.
GRFC has had a men's team for a few years now competing at the semi-pro level, but this year the club added a women's team. While the men's team didn't see much success, the women's team only lost one game all season and won the United Women's Soccer league in their inaugural season! For my time spent with the club, I was able to hold the trophy many times throughout the night.
Being a CCM major, I'm always comforted by how open-ended the degree program was; you can do almost anything you can imagine with it. When I'm not studying, I'm the President of the Michigan Tech hockey student section, Mitch's Misfits. Being the leader of the Misfits has been the honor of my life, so I figured why not get professionally involved in the sports world?