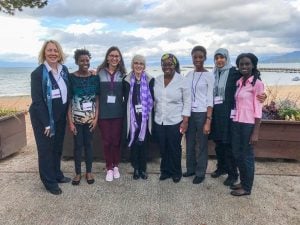 Michigan Tech Humanities graduate students and professors presented scholarly work at the annual Conference of the Organization for the Study of Communication, Language, and Gender in Lake Tahoe, Nevada October 3-6, 2018.
Masters Graduate student Nancy Achiaa Frimpong presented "Skin Colour on Sale: Advertising and Postfeminism". Doctoral Graduate student Nada Mohammad Alfieir presented "'I Didn't Understand Anything!' A Muslim Mother's Narrative Reflections on Privacy, U.S. Sex Education, and a Daughter's Denials". Doctoral Graduate student Sara Potter presented "Motherhood as a Jointly Constructed Narrative". Doctoral Graduate student Modupe Yusuf presented "African Women as Symbols of Feminist Persistence". Ph.D. candidate Toluulope Odebunmi presented "Women and Politics in West Africa: An Analysis of Feminist Criticisms Against Liberia's Ellen HJohnson Sirleaf". Ph.D. candidate Nancy Henaku presented "Resistance, Discursive Activism and Gender Politics in Ghanaian Social Media: A Feminist Critical Discourse Analysis" and also served as the student representative on the OSCLG Board. Ph.D. candidates Nancy Henaku and Toluuope Odebunmi presented papers on the panel, "African Women Performing Persistence: Tales of Historical and Contemporary Contributions to Global Activism".
Professor Victoria Bergvall presented "Missing Voices in the WEIRD Discourse of Gendered Neuroscience: Transnational Feminist Discourses of Nature and Nurture in Gender/Sex/Sexuality". Professor Patty Sotirin presented "Militarized Mother Legacies: Talking with WWI Mothers".
Pictured from left to right: Victoria Bergvall, Toluulope Odebunmi, Sara Potter, Patty Sotirin, Nancy Henaku, Modupe Yusuf, Nada Mohammad Alfieir, and Nancy Achiaa Frimpong.