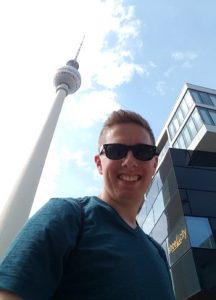 Ethan Klein, a third year mechanical engineering student with a minor in German at Michigan Tech has always had a fascination for Germany and German culture.
So you can imagine how excited he was to have been chosen to participate in a Cultural Vistas Fellowship program in Germany.
Cultural Vistas Fellowship awards a select group of students the opportunity to travel abroad, with the goal of increasing understanding of innovation and entrepreneurship in a global market. The two-month program destinations include Germany, India and Argentina. The students undergo an intensive two-day training program in New York prior to departure, preparing them to live and work in their selected countries; they then share their experiences in New York once again, when they return.
Klein, whose fascination with German history is fueled by his family ancestry, was thrilled to have the opportunity to not only go to Germany, but to secure an internship where he and his team members worked on a testing apparatus for linear led lighting systems.
When Klein was younger, his family hosted a German exchange student, Matthias Straubinger. Klein's family kept in contact with Matthias over the years. Klein was very pleased to be able to spend time with Matthias while in Germany. The two toured some of the local sights, including a historic park in the Grunewald Forest and a castle built in 1542 by Prince-Elector Joachim II.
Read the full story.