This post was originally published in Michigan Tech's IT News and Announcements blog. 
Lean principles are generally well established and have been applied to manufacturing for quite some time. The idea is simple: identify and eliminate areas of waste that lead to poor service for customers. Within Michigan Tech IT, we've begun to apply those principles to our work. Though the changes are small, they've made a large impact in how we do daily business, and they're sparking a cultural change within our organization.
Group-ups
The Services Team is using daily Group-up meetings to increase awareness among staff and solve problems. "Our morning huddle brings everyone together for 15 minutes to discuss what is most important, most time-sensitive, and most technically problematic," says David Kent, IT Services Director. One of the main objectives of the meetings is to help each other solve problems or help with time-sensitive commitments. "Threats to projects and deadlines are identified quickly, and often resolved on the spot, because the entire team is present," says Kent.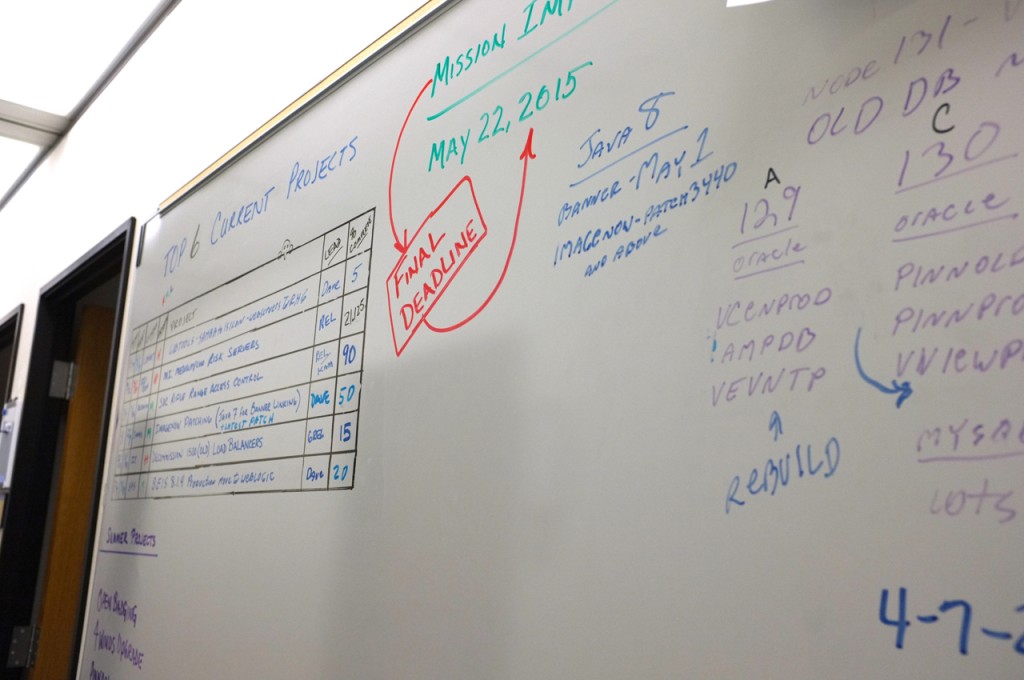 The morning huddle fosters a more efficient and open, collaborative attitude within the team. "Since we've started having the group-ups, our ticket count has decreased significantly, and we're continuing to set record lows on a regular basis.  Everything that is important to our group is on the whiteboard for all to see, and each member is able to make updates as needed.  We definitely accomplish more with less because we focus on what is on the board."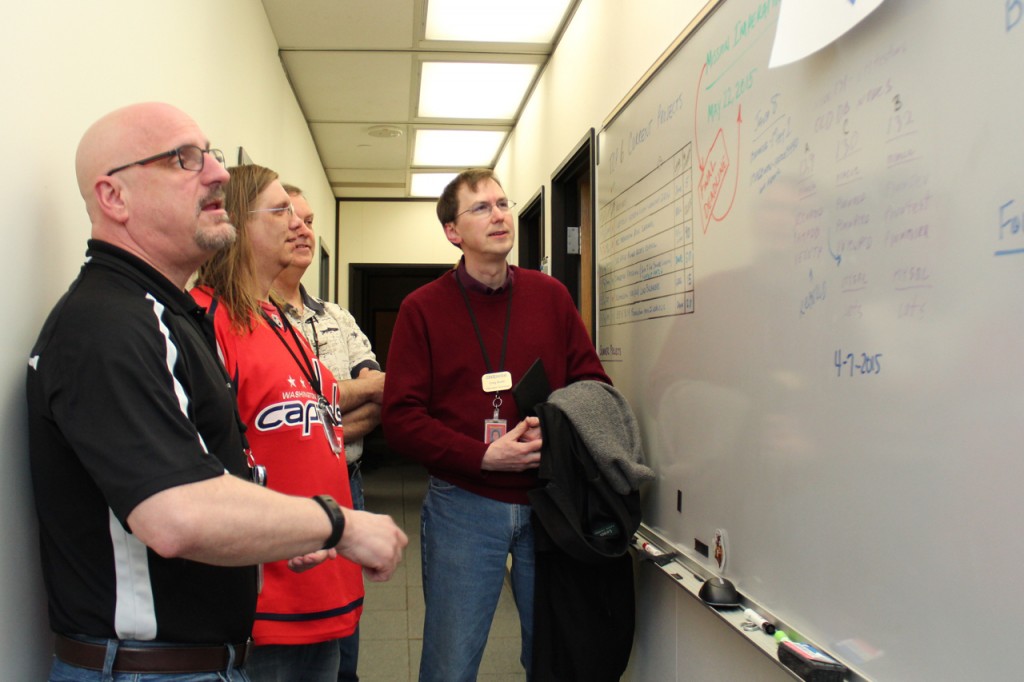 Project Board (Cadence Board)
For the past month, the Enterprise Application Services group has been using a Cadence Board for their Web Focus Project. The low-tech and flexible visualization tool gives visibility to the current workflow and progress and informs the team of each other's work progress. The board displays planned work, unplanned work, high level milestones, a parking lot (for future items) and a rolling two-week work plan. The team meets three times a week for status updates and discussion.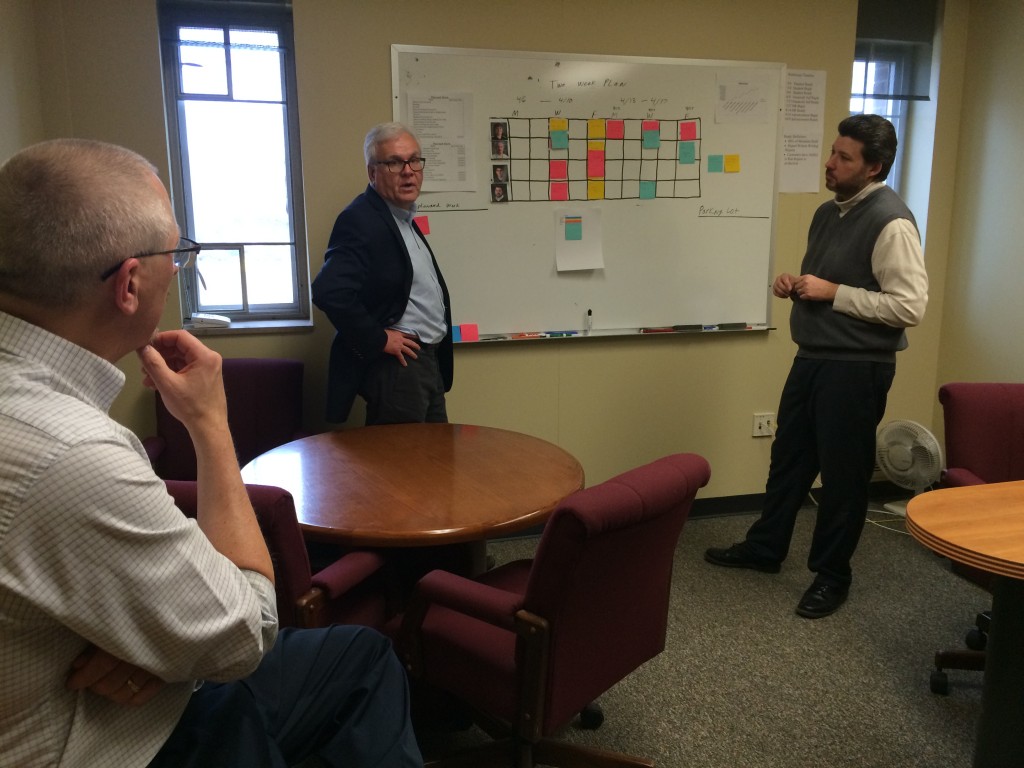 "The board helps us keep the project moving and more easily keep track of its different elements," says Emmett Golde, EAS Director. "It's increased communication between team members, and because it's so visual, you can immediately see who's doing what and where they're at in a particular process. Tasks are shown in small enough pieces so that we can see where the workload is distributed. It shows us if a particular team member is overloaded."
Process Mapping for a Kaizen Event
When Ashley Sudderth, Chief Information Compliance Officer, met with the Office of Continuous Improvement on March 23, it was to discuss IT's Procurement and Deployment process for new machines. "It was an area that generated a lot of help desk tickets and was one we knew needed improvement," said Ashley. "We met with the Office and completed a process map of the P&D process. They helped us examine the process for where we could benefit from a Kaizen event… and we chose the service desk workflow for task management."
Through the mapping process other small changes were identified that had a big impact in addition to the Kaizen event. "It's been very helpful to have outside input from actual customers who also understand the Lean Process," said Angie Hebert, Sr. Help Desk Consultant, a member of the process mapping team. "One of the things customers were unsure of was what software would be included on their machines at delivery. We took that feedback and set up a web page that gives them a full list of what software they will receive as a standard installation. It was just one of the things that we might not have considered had we not gone through this process."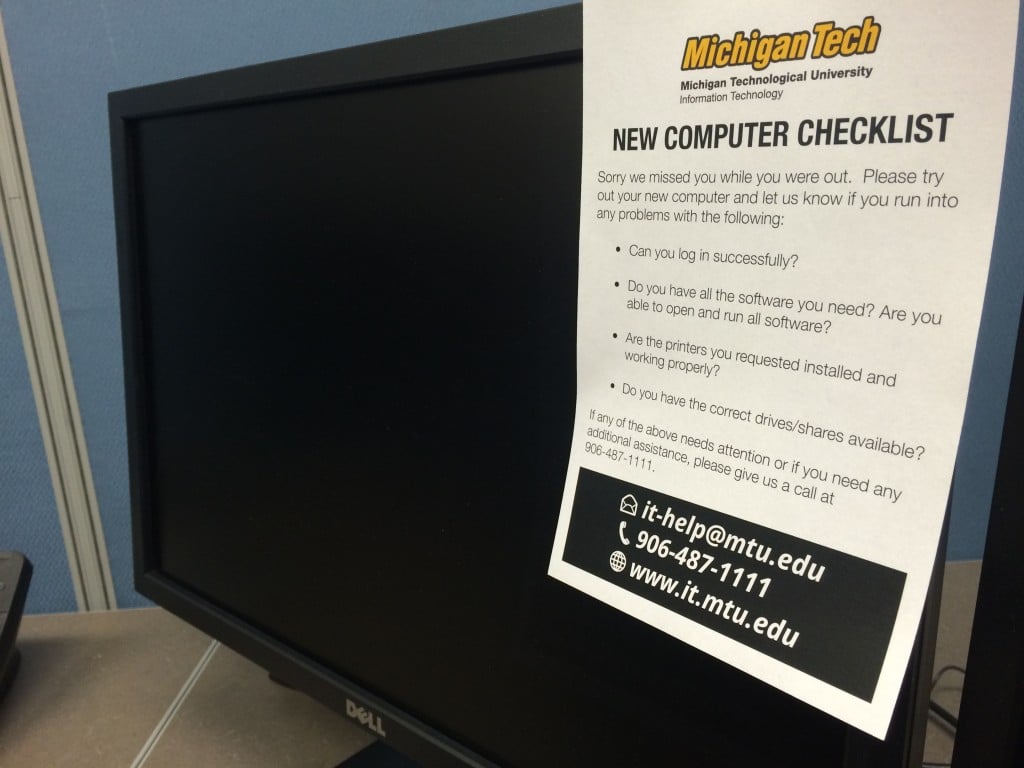 Though the team is still in the process mapping stage, they've already seen major benefits. "Our team members have an increased knowledge of the parts and pieces in the deployment process from procurement to the actual builds," says Hebert. "We've seen more care and diligence in work, resulting in faster, better builds in deployment."
Josh Olson, Chief Technology Officer, is embracing the shift to Lean IT. "As an organization, we want to be open to change in our processes and methods and commit to continuous and ongoing improvement," he says. "Since we've started incorporating Lean thinking into our daily work, we've seen measurable improvement. The culture is changing. We're changing. Lean IT is improving the way we provide services to our customers."