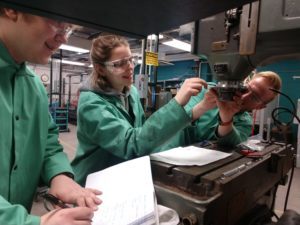 Michigan Technological University's Material Science Summer Youth Program has a new industry partner in Lightweight Innovations For Tomorrow. LIFT is a Detroit-based research and development firm largely sponsored by the U.S. Department of defense. The firm is interested in designing lightweight materials but is also interested in education and outreach.
"There are a lot of manufacturing jobs that are unfilled," said Joe Steel, Communications Director at LIFT. "… part of our efforts is to encourage students to look at engineering as a profession."
"LIFT has new leadership and is working with more small and medium-sized companies. We at MTU are really well positioned to assist them in that because we have contacts with bigger companies as well but also with smaller and medium-sized companies," said Paul Sanders, associate professor of science and engineering at MTU. "So, we started to partner more intentionally with them."
"We have a group of students and take them through a whole bunch of activities that provide them with fun hands-on activities that incorporate a lot of science," said Edward Laitila, Senior Research Engineer and Adjunct Assistant Professor at MTU. "We like to relate how things occur with something that they are familiar with."
Read more at the Mining Gazette, by Jon Jaehnig.
Related:
LIFT Partners With Michigan Technological University To Support Students In Advanced Manufacturing