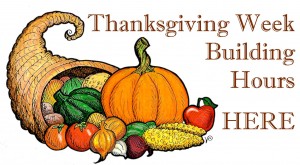 Where else can you give thanks AND work off that extra piece of pumpkin pie? The SDC of course! Although hours will be limited, there's still plenty of time to go for a swim, play some hoops in the multi or try out some of the new equipment in the Fitness Center.
To see Thanksgiving holiday building hours, visit
http://www.michigantechrecreation.com/operations/building_hours/Thanksgiving2014.pdf.