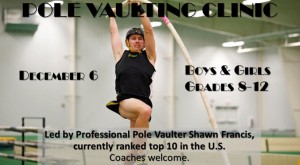 Boys and girls in grades 8-12 are invited to attend a pole vault clinic led by pro vaulter Shawn Francis, currently ranked #10 in the US. The clinic will be held Saturday, December 6 from 1 to 6 pm in the SDC Multi Purpose Room.
Skills covered will include: approach and plant; take off, inversion and pike; and drills to improve individual parts of the jump. Coaches are welcome. 
Cost to attend is $99/participant and $25/coach. Space is limited, and pre-registration is required by December 4.
For more information or to register, visit