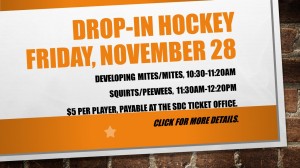 Looking for some extra ice time over Thanksgiving? Check out Drop-In Hockey Friday, November 28 at the SDC!
Divisions and Times:
Developing Mites/Mites – 10:30-11:20 a.m.
Squirts/PeeWees – 11:30 a.m.-12:20 p.m.
Full equipment is required. Cost is only $5 per player payable at the SDC Ticket Office.
For more information, visit
http://www.michigantechrecreation.com/programs/youth/hockey/index.