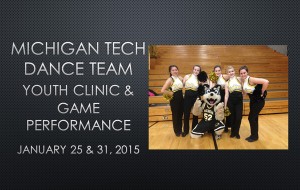 The Michigan Tech Dance Team will be hosting a youth clinic Sunday, January 25, from 3:00-6:00pm in the SDC Studio for boys and girls, Pre-K through 8th grade. Participants will warm-up, stretch, and learn across the floor routines as well as an entire dance routine to be performed at halftime of the Michigan Tech Women's Basketball Game against Lake Superior State on Saturday, January 31!
Dancers of all skill levels are welcome. Cost to participate is $25/child, $20/sibling (covers clinic & game performance; parents must purchase admission to game). Registration is at the SDC Ticket Office or by calling 487-2073.
For more information, visit Michigan Tech Dance Team Youth Clinic or contact Ariana Johnson at arianaj@mtu.edu.