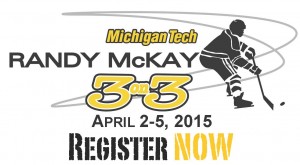 Registration continues for the McKay 3-on-3 Hockey Tournament, which will be held April 2-5, 2015.
The tournament is named after Randy McKay. McKay played at Michigan Tech from 1984-88, and went on to play professionally for the New Jersey Devils (winning two Stanley Cup wins) the Montreal Canadiens, the Dallas Stars and the Detroit Red Wings.
The tournament is a great time for competition and honing skills. The program accommodates all age groups and all skill levels. The 3-on-3 is a unique brand of hockey. Play runs concurrently on each half of the ice surface (about 100 feet by 85 feet), which allows for quick games and fast action.
This year's divisions are: Developing Mites, Mites, Squirt House, Squirt Travel, PeeWee House, PeeWee Travel, Bantam, High School/Midget, Men's Open and Women's Open.
The cost is $200 for teams and $30 per goalie. Deadline to register is March 20.
For more information or to register for the McKay 3-on-3 Hockey Tournament, visit McKay 3-on-3.