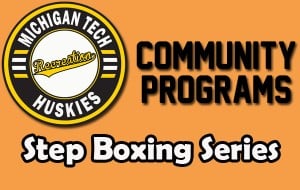 It's time to step it up with Step Boxing! A 3-week series begins this Sunday, April 12. Step boxing combines kickboxing and step aerobics to create a really fun, intense workout.
Class meets Sunday, 5:00-5:50 p.m. in the SDC Studio. Cost to attend is $15/community member for the series, $12/Michigan Tech student for the series or $7 daily.
For more information or to register, visit Step Boxing.
Commit to be "HuskiesFit" in 2015 with Michigan Tech Recreation!