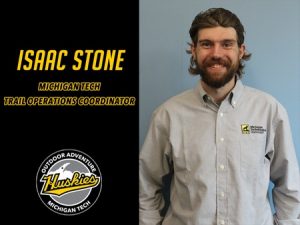 HOUGHTON, Mich. – Michigan Tech Athletics and Recreation has hired Isaac Stone as the new Trail Operations Coordinator. Stone is responsible for daily maintenance and grooming of the Tech Trails as well as event set-up and competition grooming.
"We are excited to have Isaac Stone join our team," said Joel Isaacson, Associate Athletic Director for External Relations. "He is a hard-worker that is dedicated to the success of our trail system. His knowledge of competition grooming should continue the tradition of a high standard of racing."
Stone has worked at the Tech Trails as a student operator since September 2017. He was responsible for daily grooming of the trails as well as race-day grooming.
Stone is a native of Houghton, Michigan and is in the process of completing his Bachelor's Degree in Civil Engineering. He was a member of the Copper Country Ski Tigers and won a state Nordic skiing title and competed as part of the CXC J2 Eastern Championship Team. Stone also made two trips to Junior Nationals as part of the Great Lakes Division team.
"I am very excited to be taking over as the Trails Operating Coordinator. My two overarching goals are to provide consistent, high-quality trail maintenance and to clearly communicate trail conditions," Stone said. "Hopefully, consistently improving in these areas will enhance the experience of individuals taking advantage of the world-class trail system we are blessed to have."
The hiring of Stone coincides with The Michigan Tech Outdoor Adventure Program moving to the Tech Trails from their previous office on East Street. The Tech Trails will also be home to several Nordic skiing races this coming season, most notably the 2020 U.S. Cross Country Ski Championships from January 2-7.