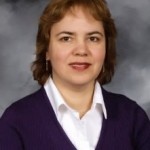 Associate Professor Nilufer Onder (CS) was included in the Top Women Professors at Affordable Colleges by Affordable Colleges Online, a website devoted to helping prospective students and their families find good colleges at a reasonable cost.
The top professors lists highlights post-secondary educators at affordable colleges who have been honored for excellence in the classroom, on campus and/or in the community. Onder was recently awarded Michigan Tech's Distinguished Teaching Award.
"Our goal with the top professors project is to recognize today's truly stand-out educators and mentors," said Dan Schuessler, founder of Affordable Colleges Online. "We focused on professors at colleges with tuition rates below $20,000 per year to show that a quality education from top professors can be affordable."
From Tech Today.