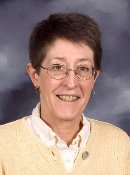 Susan T. Bagley, professor professor emerita of environmental microbiology in the Department of Biological Sciences, has received the Charles Porter Award from the Society for Industrial Microbiology and Biotechnology (SIMB).
This award recognizes longtime members for outstanding, sustained service to the society for seven or more years. Bagley has over 35 years' experience as an environmental microbiologist, working in academia and government on microbial-based treatment of air, waterborne and industrial organic wastes; microbial production of bio-based fuels; and mutagenicity and toxicity of environmental pollutants.
She has received research funding from a wide range of governmental, industrial and foundation sources and has coauthored more than 85 peer-reviewed articles, proceedings and reports. Most of these studies have involved multidisciplinary collaborations with faculty and students. She taught introductory courses in microbiology plus applied and industrial microbiology and microbial physiology for senior undergraduate and graduate students.
Bagley has been a SIMB member since 1997 and has served in a range of positions, including president, editor-in-chief of SIMB News, and chair of the Nominations, Planning, and Annual Meeting and Exposition Program Committees. In addition, she has been a member of the Finance, Publications, and other Annual Meeting and Exposition Program committees.
She is a senior editor and co-chair of the Presidential Committee on Diversity, working to establish a standing SIMB Diversity Committee. She has also chaired numerous Annual Meeting sessions. Outside of SIMB, she serves the American Society for Microbiology as editor-in-chief of the MicrobeLibrary, a member of the Education Board and the Committee on the Status of Women in Microbiology and as coordinator of the new Speakers' Bureau, encouraging undergraduates to consider careers industrial microbiology and biotechnology.