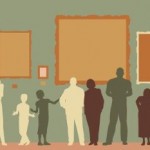 Study: Art Strengthens Community Ties in Calumet
Art has long fostered human connection. Now a Michigan Technological University social sciences professor and her class are examining how art is working as a social glue in Calumet.
Students in Richelle Winkler's Topics in Rural Community Sustainability class focused on the art scene in Calumet to better understand how the village's First Fridays art tours benefit the community. On the first Friday of each month, Calumet's participating art galleries and cafes extend their business hours late into the evening, offering refreshments, artist receptions, demonstrations, menu specials and more, depending on the season.
Read more at Michigan Tech News, by Karina Jousma.