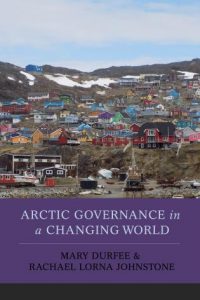 Mary Durfee (professor emerita at Michigan Tech) and Rachael Lorna Johnstone's (University of Akureyri, Iceland and the University of Greenland) have published a new book, Arctic Governance in a Changing World with Rowan and Littlefield.
Arctic Governance in a Changing World provides a succinct yet precise account of the contemporary Arctic in the context of international relations and international law to explain the people and processes that govern the Arctic.

The book begins with an overview of the Arctic in light of its inextricable relation to the wider world. An explanation of environmental and political change in the Arctic follows. The book shows how various players in Arctic decision-making influence different spheres of governance. Security in the Arctic is analyzed in terms of both national and human security. Arctic economies are presented and then explored from a political economy perspective, including free trade issues and the influence of China. The book is strong on human and indigenous rights and explains how these rights constrain state and corporate behavior. It shows how the law of the sea in the Arctic determines resource allocation. Unique in a textbook about international relations is a chapter on Arctic shipping. The book explains how (and to what extent) international environmental law protects the vulnerable Arctic and its inhabitants in times of climate change. It concludes with an analysis of resilient governance in the Arctic.