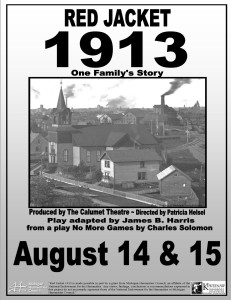 Associate Professor Patricia Helsel is directing Red Jacket 1913, a special production in collaboration with the Calumet Theatre. This play uniquely presents the history and conflict surrounding the 1913 copper strike, focusing on one family's struggles. While fictional, Red Jacket 1913 is based entirely on historic events.
Dennis Kerwin, former VPA faculty, heads the cast comprised mostly of community members, while Jonah Mueller, a Tech sound design major, and Dollcie Webb, majoring in theatre and electronic media performance, are both involved in the play's production.
Performances are tomorrow and Friday at 7:30 p.m. Contact the Calumet Theatre box office for tickets at 337-2610.