The Omni CMS Dashboard provides a location within the CMS where you can access user-specific messaging and gadgets. The Dashboard is the default log-in location from the standard Omni CMS Login screen when not using DirectEdit.
In the Dashboard menu on the global navigation bar, you can find links to Workflow and Inbox. These options are also found beneath your name on the My Dashboard page.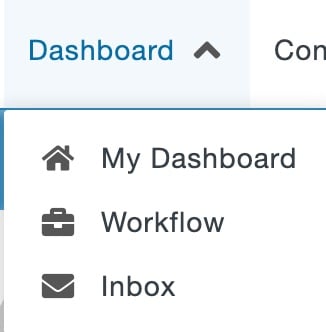 The Dashboard can be customized by choosing which gadgets to show or hide in the view as discussed in the Dashboard Gadgets section.
My Dashboard
This option will take you to the My Dashboard page.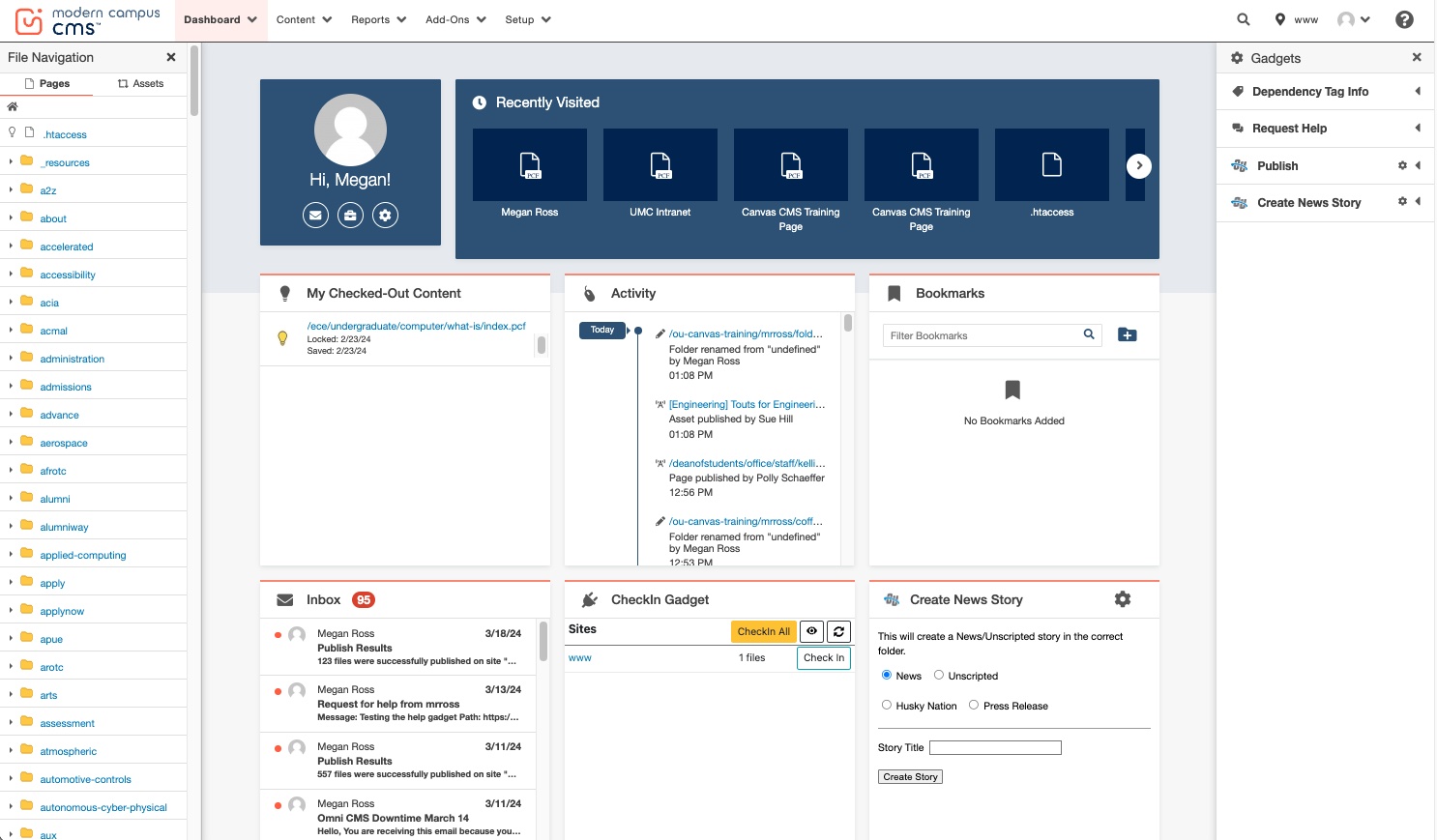 Dashboard Gadgets
The Dashboard gadgets generally have site-wide functionality or provide shortcuts to content. The system gadgets available on the Dashboard are:
Activity: shows content with recently performed actions such as a scheduled publish, expire, or upload.
Bookmarks: Bookmark frequently-used pages, reports, or other Omni CMS screens for easy navigation.
CheckIn Gadget: check in all content you have checked out with a single click.
My Check-Out Content: shows content checked out by you and the date/time stamp when the content was checked out. Content is linked and can be clicked to for editing or approving. The light bulb icon indicates that the page is checked out and clicking it checks the page back in.
Inbox: provides a scrollable list of recently received messages.
The Configure Dashboard link can be used to choose which gadgets to display on the Dashboard.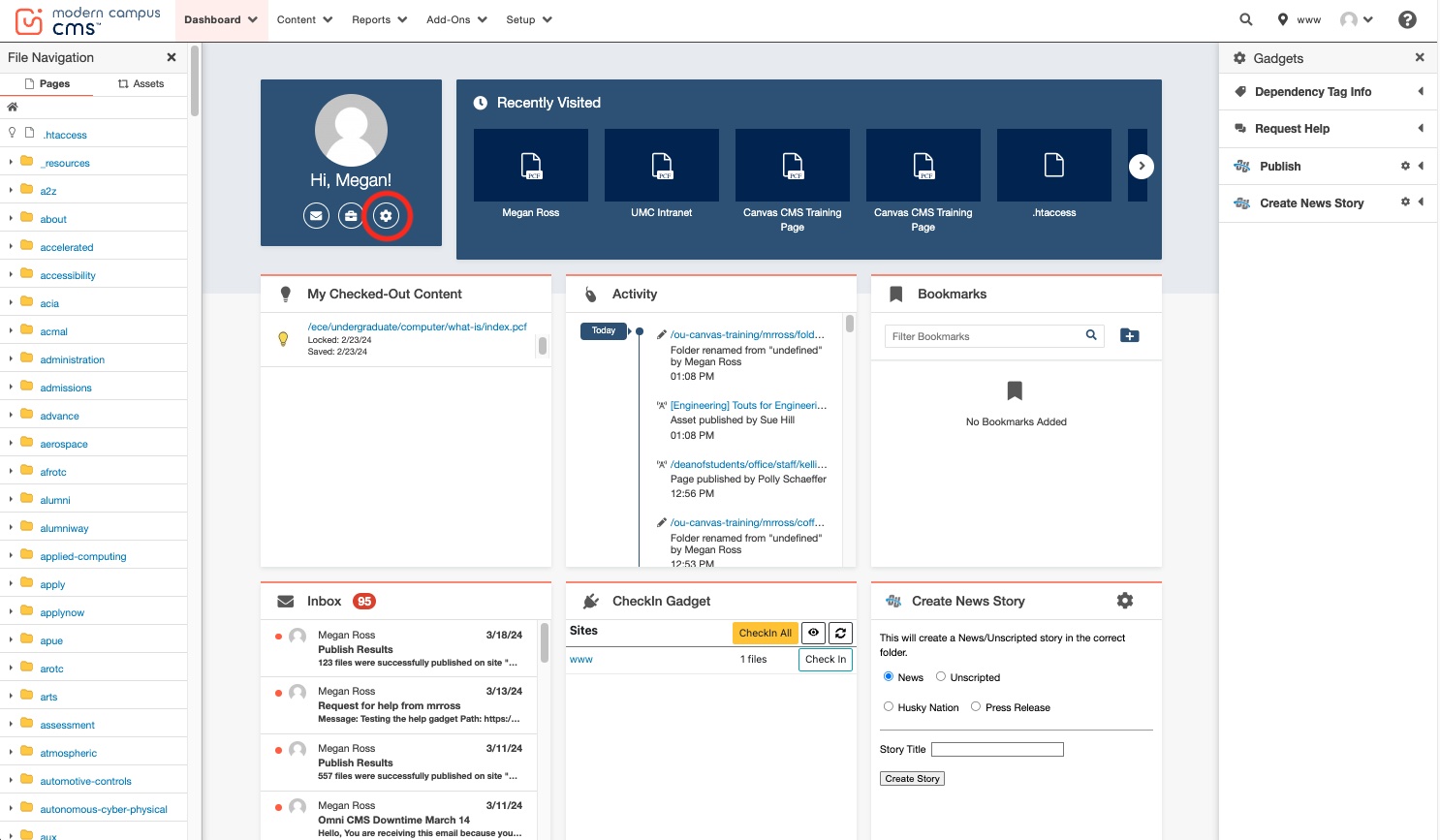 Clicking this link brings up the Dashboard Configuration modal.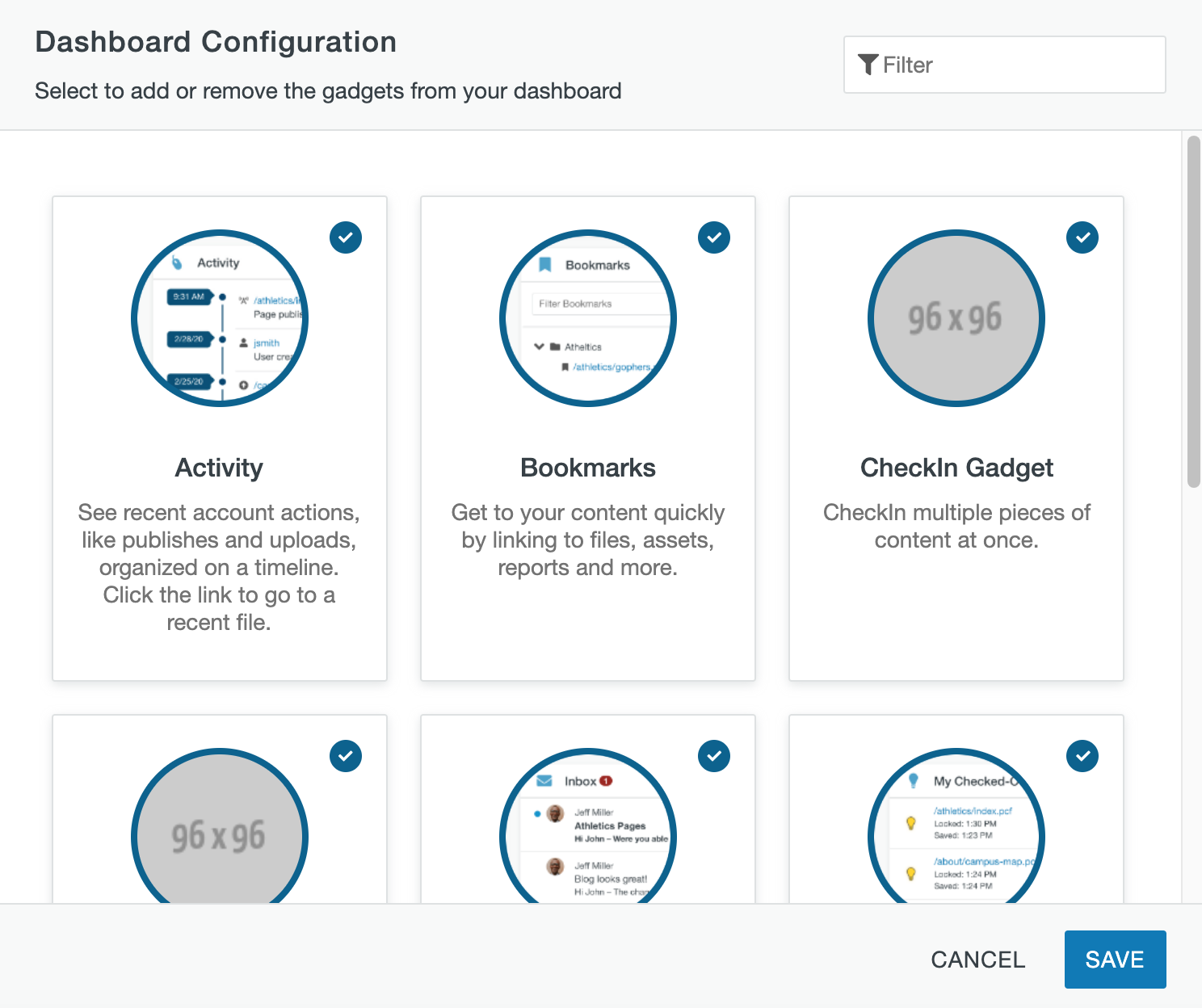 This screen shows the gadgets that are available to you and they can be filtered by name. Functionality includes:
Filter: Enter two or more characters to filter by gadget name.
Checkbox: Click a checkbox to select a gadget to show on the Dashboard. To hide a gadget from view on the Dashboard, click the checkbox to clear the selection.
Gadgets can be reordered on the Dashboard by clicking and dragging the grey title bar to a new "tile," shown by a dotted line.

Workflow
The Workflow list view shows content that you have sent to another user for approval or content that has been sent to you for approval. These messages are separate from other messages (which can be viewed in Inbox and Sent). Content moving through an approval workflow can be tracked using this screen. Most departments will not be using this.
Inbox
Inbox displays messages from other users as well as automated messages associated with scheduled actions, such as a notification of scheduled publish or notification of page expiration. The Inbox Gadget is also shown on the Dashboard and includes how many new messages are in the inbox. The Inbox includes a linked list of messages and the functionality to compose a message. It is NOT recommended that you use this function to send messages to others. Please use your Michigan Tech Gmail instead.