The global navigation bar, found at the top of the screen, is the primary way that you will navigate through Omni CMS.

Dashboard: Includes access to your workflow, inbox, and Dashboard gadgets. The Dashboard is the default location when you are not logging in via a DirectEdit link on a page.
Content: The Content menu includes access to the main area for editing pages and assets. It consists of several items, depending on your permission level.
Reports: Provides access to administrative-level reporting and content management functionality based on your permissions level.
Add-Ons: Provides access to additional applications for access through the Omni CMS interface. Access to add-ons may be limited by your permissions.
CMS Content Search: Allows you to search Omni CMS for specific content.
User Avatar: The menu provides access to your settings.
Help: Help menu items include access to the Webmaster's Blog, Omni CMS Support Site, and other Omni CMS webpages.

Dashboard
The Dashboard includes access to your workflow and inbox, and the configurable content area can contain various Dashboard gadgets such as
My Checked-Out Content (pages checked out to the user)
Workflow
Inbox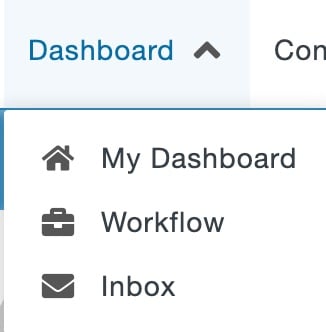 Content
The Content menu is the gateway to the most frequently-used section of Omni CMS, as it includes the capability to create and edit content. It can consist of several items, depending on authority level. These include: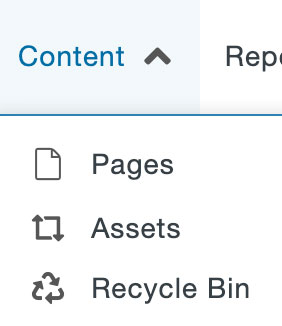 Reports
The Reports menu includes reports about content and content status, such as the number of checked out pages currently in the site. Reporting capabilities for Omni CMS include information on pages, assets, changes made within a specific date range, dependency tag and subscribers, users, broken links, checked out content, and several other reports and additional fields specific to the report type. For some reports you may only see data on pages to which you have access, others you may see data for all CMS sites.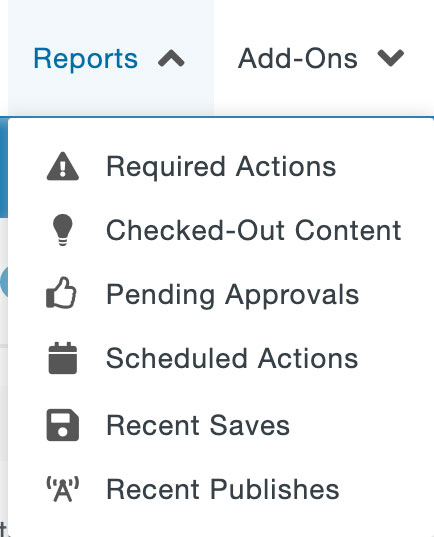 Add-Ons
The Add-Ons menu provides links to many Michigan Tech website assistance resources including the Webmaster's Blog, Style Guide, Accessible Technology Training, CMS Site Contacts, Page Layout Recommendations, Images Guidelines, Editorial Guide, and Brand Guide.
CMS Content Search
The magnifying glass icon is a Global Search function that allows you to search all content within Omni CMS.
User Avatar
The top right of every screen shows a user avatar. By clicking on this avatar, you can access the menu to change your personal settings or log out.
Help
The Help menu includes several links to additional support resources, including links to the Webmaster's Blog, Omni CMS Support site, OmniUpdate Community Network (OCN), New Features and Feedback Forum, and version release notes. Please remember that the documentation from Omni CMS is not specific to Michigan Tech and may include features we do not use or not include specific details on how we use the system.