Assets are pieces of content that are saved in a central location that can be used on multiple pages or in multiple sites. If the asset content is changed that change is applied to all pages using it.
Insert an Asset
To insert an asset, click the asset icon,

select the asset you want to use, and click Insert. The actual asset content will not be visible while you are editing. You will be able to see it from the preview.
Some University-wide assets have already been created for you to use including university-wide touts.
Create Assets
Assets can be created by selecting Assets from the Content menu in the Global Navigation bar.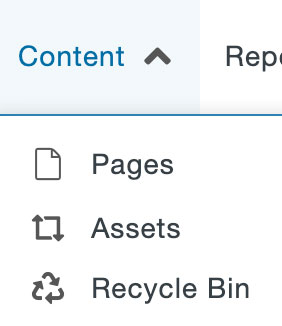 You can create an asset for content that will be used on multiple pages, within your site or among other sites, so you don't have to recreate it each time you use it and so that all instances of it can be updated at once. There are five types of assets that are available:
After creating the asset, you must publish it. When you edit an asset and publish it, the page(s) that are using the asset are automatically published.
Edit an Existing Asset
When an asset it used on your page, it will appear similar to the following screen shot in the editor screen of the web page.

Make note of the title listed in bold.
Go to Content > Assets in the Global Navigation Bar.
Use the filter field at the top of the screen to type in text from the title of the asset to find the correct asset.
Open the asset by clicking on the name in the listing.
Check out the asset by clicking on the lightbulb icon.
Go to the Edit tab.
Edit the content.
Save your changes using the blue Save button at the top of the screen.
Publish the asset. This will also publish all pages that are using the asset so they will be updated.
Tip: As a shortcut to get to the correct Asset and begin editing, you can use the link in the Page Info sidebar gadget under Dependencies.