All posts by Lindsay Hiltunen
---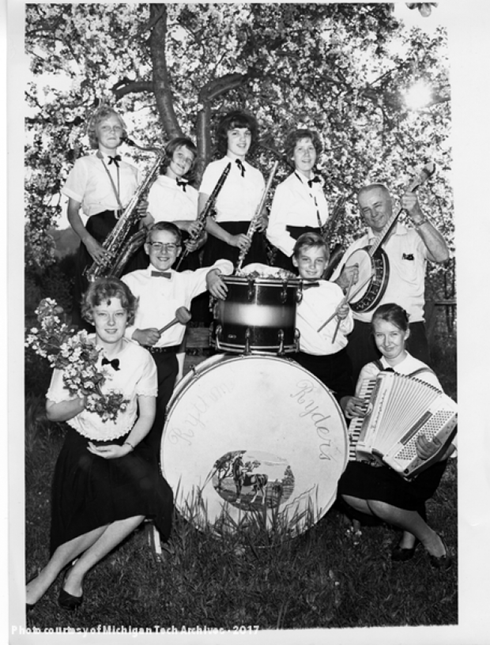 From the Daily Mining Gazette in 1963: The Redridge Rhythm Ryders Band, carry on a tradition that was started 50 years ago. The young musicians have won considerable acclaim and recognition in the region, recently winning second place in a talent show at the Dee Stadium. Band Director William H. Brinkman plays the banjo.
---
The Michigan Technological University Archives and Copper Country Historical Collections is currently seeking volunteers for a temporary newspaper project. The volunteer project includes participation in History Unfolded, an internationally significant research project administered by the United States Holocaust Memorial Museum (USHMM), as well as assisting with upkeep for the Copper Country and Michigan Tech Vertical Files. The volunteer(s) selected will receive training and will gain first-hand experience in microfilm research and vertical file upkeep.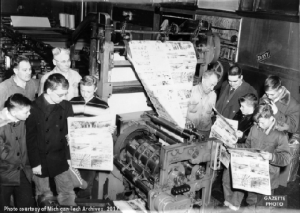 History Unfolded, a project of the USHMM in Washington, DC, asks students, teachers, librarians, archivists and community historians throughout the United States to research what was possible for Americans to have known about the Holocaust as it was happening. Participants look in local newspapers for news and opinion pieces about 31 Holocaust-era events and submit articles they find to a national database. As of May 12, 2017, 1,561 participants from across the country have submitted over 9,900 articles from their local newspapers. However, to date only 125 of those articles come from Michigan newspapers. It is the goal of the Michigan Tech Archives volunteer project to make sure that Upper Peninsula news stories are included in the national database. In addition to microfilm research and participation in the History Unfolded project, volunteers will also be expected to assist in clipping and filing newspapers for inclusion in our local vertical file.
The following skills are required:
Knowledge of World War II and Holocaust history.

Demonstrated analytical and research skills.

Ability to follow instructions and work effectively in a team-based environment.

Ability to use basic office equipment and to learn new software.
This call is for 1-2 volunteer positions with work hours to take place Monday-Friday, between the hours of 10 a.m. to 5 p.m. An ideal volunteer would be able to commit 10-15 hours per month, although there is flexibility in setting the weekly volunteer hours.  The preferred start date is June 26, to coincide with the university's second summer session. There will be no compensation or benefits included with this position and the successful candidate(s) will be expected to complete the appropriate volunteer forms for the university.
To learn more about us, please visit our website: http://www.mtu.edu/library/archives/.
Volunteer applications are due by June 12, 2017. Applicants should send a short letter of interest to:
Lindsay Hiltunen, University Archivist
Michigan Technological University Archives and Copper Country Historical Collections
Attn: History Unfolded Volunteer Project
Van Pelt and Opie Library
1400 Townsend Drive
Houghton, MI 49931
copper@mtu.edu | (906) 487-2505
---
---
The last week of April was World Immunization Week. A campaign of the World Health Organization (WHO), this special event celebrates the development of vaccines to prevent diseases that once ravaged communities. The Copper Country was no exception to the scourge of sickness: measles, meningitis, diphtheria, and other illnesses made the rounds of mine towns, often with devastating effects.
Mining companies took a keen interest in the spread of these diseases and others in their surrounding communities, both for the benefit of the corporation and the good of the workforce. From nearly the beginning of Copper Country mining, company payrolls included doctors, a holdover from the Cornish roots of many early miners. As the region matured, several mines constructed hospitals and medication dispensaries to serve their employees. For a modest monthly contribution and additional fees for inpatient care, workers and their families were entitled to diagnostic services–both at home and at the hospital–and medication. Calumet & Hecla (C&H) offered perhaps the archetypal example of this service. The company opened its first hospital in 1871 and, by 1897, boasted an expanded, state-of-the-art facility with a substantial staff. Patients seeking treatment visited this impressive building on the east side of Calumet Avenue (US-41), just north of Church Street. C&H also operated a clinic in Lake Linden.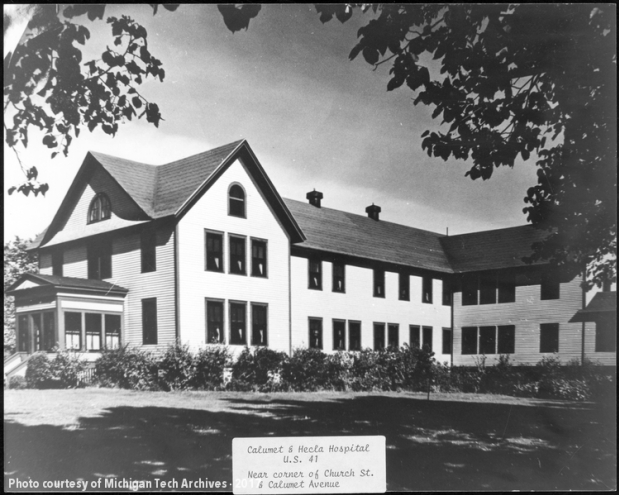 By the late 1890s, C&H hospital physicians also aligned themselves with the growing field of public health. At the end of each month, doctors sent the company's superintendent reports about the highly communicable diseases–now often preventable with vaccines–that its staff had treated. These dispatches, which C&H titled "Sanitary Bulletins," recorded the nature of each illness, the neighborhood in which it had occurred, and the address of the patient; in an endeavour that presaged today's emphasis on data visualization, physicians then carefully plotted the cases on a map of the Calumet area, using colored circles corresponding to the illnesses observed. The month's average temperature, mean barometric pressure, total precipitation, and prevailing wind direction also featured prominently in these bulletins, which have been preserved as part of MS-002: Calumet and Hecla Mining Companies Collection.
The sanitary bulletins are a fascinating snapshot of the state of public health in Calumet in the late 1800s and early 1900s. Through the meticulous note keeping of the mine physicians, modern researchers glimpse the illnesses that struck the community and the geography of epidemics, how sickness spread through a mine town. In March 1910, for example, a physician was called to Rockland Street in Calumet location–a settlement along the east side of today's US-41–to tend to a feverish patient, probably a child, who was suffering from a cough, running nose, and watery eyes. An angry red rash had erupted across the patient's skin. When the doctor came to the home, his diagnosis confirmed what family members had no doubt suspected: a case of the measles. This became the first blue dot–that month's chosen color for measles–in a wave of illness, the tip of the iceberg.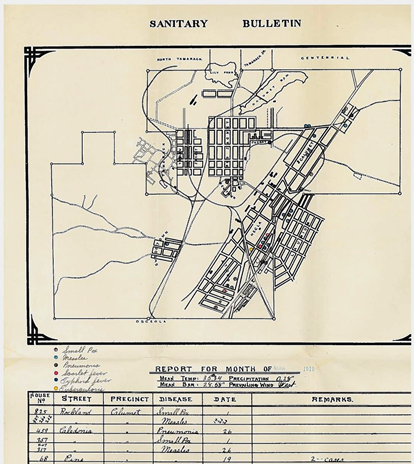 Four days later, C&H physicians were called to tend to two cases of measles down the road in Hecla location; the following week, the neighborhood where the outbreak had begun saw another four patients with the same disease. Measles began to spread west along Pine Street, branching into the community of Blue Jacket even as it took further hold in Hecla and Calumet locations. In April, the simple outbreak of measles exploded into an epidemic. Pine Street had 18 measles patients, Rockland Street a total of 25. Adjacent Caledonia Street topped them all: 45 residents came down with measles that month. Imagine this happening in your neighborhood! The epidemic, which faded by June, sickened over 200 people. No longer able to squeeze all of the blue dots onto their sanitary bulletin, C&H doctors settled for drawing one dot per street and painstakingly penciling the total number of measles cases beside it.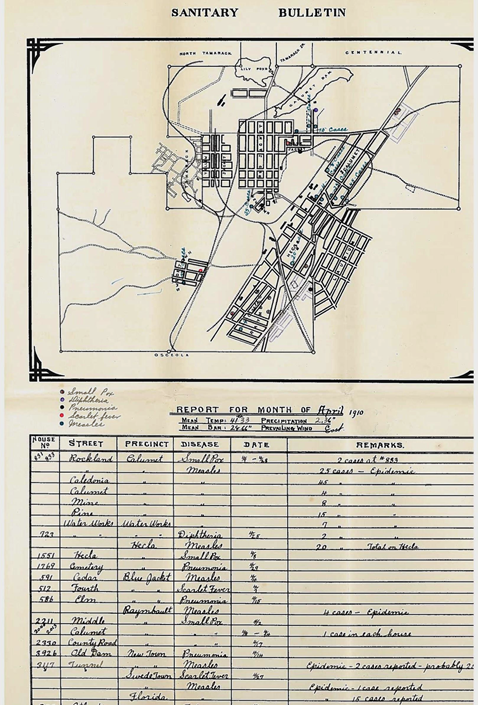 Although none of the 1910 measles cases appears to have been fatal, the sanitary bulletins often tell of patients who were not so fortunate. Diphtheria, a capricious disease, sometimes dealt a glancing blow–or led to a date inked onto the chart with the word "died" beside it. Pertussis (whooping cough) lingered in homes; a painful annoyance to older children, it frequently led to deadly pneumonia in infants. Meningitis killed without prejudice, taking up to 80 percent of its victims in a matter of days.
Today, vaccines dramatically curtail the spread of these diseases, sparing countless individuals from miserable illnesses and their families from grief at the premature loss of loved ones. Poring over these fascinating artifacts unlocks a vivid story of life and death, a world before widespread vaccination. To discover more of the story, visit or contact the Michigan Tech Archives–our friendly staff are always ready to assist you.
A special thank you to our Assistant Archivist, Emily Riippa, for another well-researched and thoughtful post.
---
---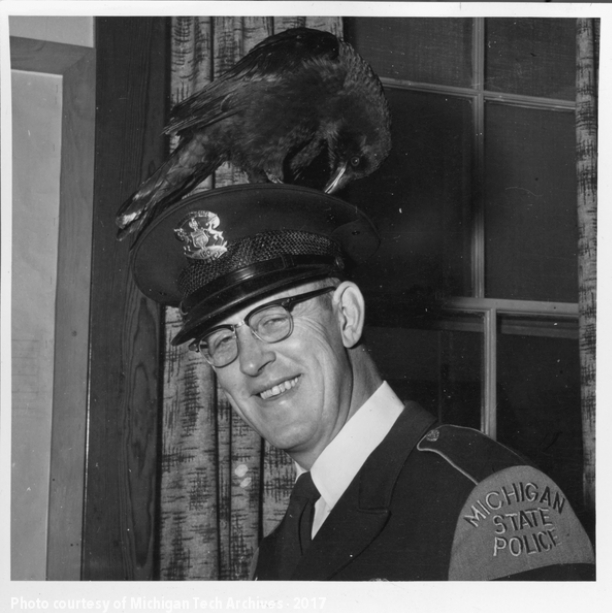 Yesterday was National Pet Day, so we couldn't resist sharing this photograph Georgeann found of Lobo the crow. From the Daily Mining Gazette article, October 20, 1958: "The crow had half the surrounding area up in the air trying to find its owner, recently, with police checking from crow owner to crow owner, Lobo eventually was returned to a Kearsarge resident." Be sure to check out the Copper Country Historical Images site for more interesting photographs of people, pets and more!
---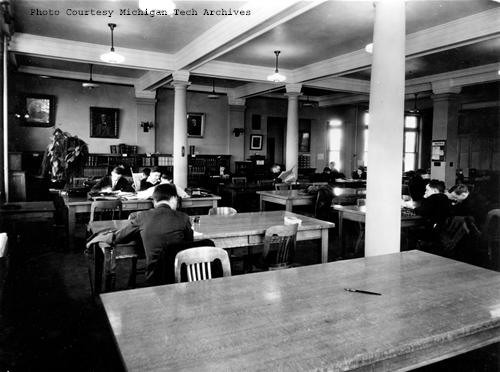 The Michigan Technological University Archives and Copper Country Historical Collections is currently seeking applicants for the Friends of the Michigan Tech Library Graduate Internship for summer, 2017. The archives provides a high level of service to scholars, students and a wide range of walk-in visitors and global patrons through virtual reference. Summer services are fast-paced and we see an increase in visitors, especially through our role as part of the Keweenaw Heritage Site network, a partnership with the Keweenaw National Historical Park, a member of the National Park Service. Areas of emphasis include manuscripts, maps, print and digital images which document the Keweenaw Peninsula, Michigan's Western Upper Peninsula (U.P.) and university history. Partnerships with faculty and collaborative initiatives within the Van Pelt and Opie Library expose archivists to leading edge projects. Current projects include a migration to ArchivesSpace, a formalization of our outreach program through the Harwood Cohort Public Innovators workshop, and a research study and exhibit of the Copper Range Railroad.   
The intern selected will receive substantial experience in both public service and collections handling. The intern will assist in (day-to-day) public service activities, including greeting and assisting researchers, retrieving and shelving collections, and assisting university and community patrons with use of materials and equipment. The intern will also gain experience in organizing, describing and processing archival collections. This includes researching people or events covered by a collection, cleaning, arranging, boxing and creating finding aids.
Preference will be given to applicants currently enrolled in a graduate archival studies program, but consideration may be given for equivalent education and experience. The following skills are required:
Knowledge of contemporary archival practices, policies and procedures, including arrangement and description, and familiarity with DACS, MARC, LCSH and MPLP.

Demonstrated analytical and research skills.

Ability to work independently and exercise initiative, discretion and judgment.

Ability to work collegially and effectively in a team-based environment.
This is a 35 hour per week, part-time summer position to span seven weeks. The preferred start date is June 26, to coincide with the university's second summer session. There are no benefits included with this position and the successful candidate will be expected to cover travel expenses to Houghton, Michigan. The intern will be compensated in the form of a $5,000 stipend to be paid out bi-weekly throughout the duration of employment. Offers of employment are contingent upon and not considered finalized until the required background check has been performed and the results received and assessed. Housing options in the Copper Country include independently requesting a single occupancy dorm room and included meal plan (depending on availability) or making off-campus housing arrangements. In addition to a great working environment you will enjoy exquisite scenery, moderate temperatures and outdoor activities near the shores of Lake Superior!
To learn more about us, please visit our website: http://www.mtu.edu/library/archives/
Applications are due by May 12, 2017. Direct any questions, or submit your cover letter and resume to:
Lindsay Hiltunen, University Archivist
Michigan Technological University Archives and Copper Country Historical Collections
Attn: Graduate Student Summer Intern Position
Van Pelt and Opie Library
1400 Townsend Drive
Houghton, MI 49931
copper@mtu.edu
(906) 487-2505
Michigan Technological University is an Equal Opportunity Educational Institution/Equal Opportunity Employer, which includes providing equal opportunity for protected veterans and individuals with disabilities.
---
---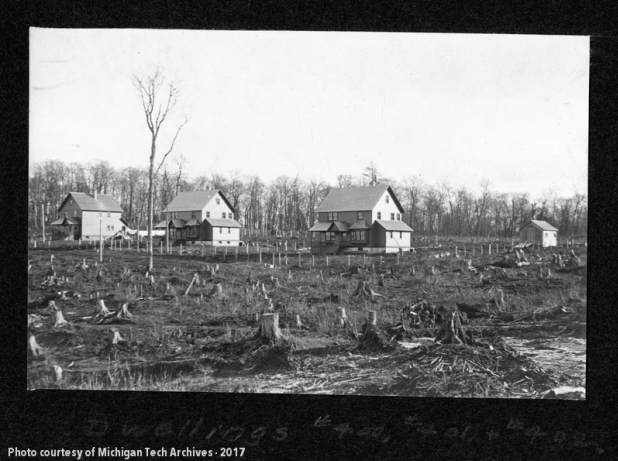 The following post is by our Assistant Archivist resident, Emily Riippa.
Most families have their legends about black sheep, relatives whom the older generation spoke about in lowered tones or with the admonition that little pitchers have big ears. Sometimes, the subjects of these stories simply marched to the beat of their own drums; other times, they fought the law, and the law won. While Houghton County was never a Deadwood or a Tombstone, its mining communities had their share of residents who ran afoul of Lady Justice. The details of their brushes with the law from about 1900 through the early 1970s are part of the Houghton County Circuit Court Records here at the Michigan Technological University Archives and Copper Country Historical Collections. The records–which also include civil suits and divorces–are a hidden gem for genealogists.
Often weighed down with legalese, case documents can at first be daunting for even practiced researchers. With a little patience, however, the circuit court files add new dimensions to ancestors who might otherwise have been understood through sparse details provided by census records or death certificates. Perhaps you'll discover a wife you never knew your great-uncle had or a criminal past no one had ever discussed. On other hand, maybe that black sheep has been talked about for years, and the stories of their misdeeds seem to be growing more colorful with every retelling. The sworn testimony of witnesses and first-hand sources collected by the Houghton County Circuit Court put family legends to the test, dispelling myths and sometimes uncovering truths even more interesting than fiction.
I had the opportunity to use these documents for just such a project of my own, and I hope that walking through my example will inspire and guide others researching their family history. Great-Grandmother Marija Riippa was an immigrant from Finland, the widow of a disabled miner, the mother of ten, and a petite woman who never reached five feet in height. She was also, my family said, an inveterate moonshiner whose profits eventually took her from impoverished to financially comfortable. Who said Prohibition wasn't a success? Although my dad had known Marija well in his childhood, I sometimes wondered whether all of these larger-than-life stories could be true. The Circuit Court files offered the perfect arbiter between family legend and legal truth.
I began, as anyone wanting to look for their relatives in these documents should begin, by searching for my great-grandmother's name in the index to parties involved in the various cases. Archives staff happily conduct this search on behalf of all patrons. Be prepared to think creatively when starting your research: courts often managed the spelling of names or substituted English equivalents of foreign names. Marija, for example, was normally listed as "Mary," and her surname was usually spelled "Rippa" or "Riipa." My search yielded five criminal cases–as indicated by the State of Michigan serving as plaintiff–and, interestingly, one civil suit filed by Marija against the Houghton County Road Commission. While the database gives hints as to whether a case was related to a divorce, criminal charge, or civil matter, it does not list dates, charges, or outcomes. The next step was to pull the case files.

What you'll find in a case file depends on the nature of the suit and how far it was carried out before reaching some sort of resolution, like a settlement, conviction, or finalization of a divorce. Summons, complaints, and injunctions describe why the case was brought to court; witness lists give a sense of who an accused person knew and how widespread the knowledge of their alleged crime had been. If the case went to trial, transcripts of the proceedings provide the most vivid, detailed descriptions of what took place to bring the case to court and inside the courtroom.
Marija, I discovered in looking through the documents, was charged at least three times "violation of the prohibitory liquor law" between 1922 and 1928. The first indictment also involved her husband, Joel, a miner who was no longer able to work. With Prohibition in full force, the couple apparently seized on a new business opportunity to put food on the table. Perhaps swayed by Joel's disability and the small children at home, the court dropped the charges. After Joel died in 1923, Marija persisted in their business. The state brought charges against her again, but this second case went no further than the first. Finally, any mercy the court had offered wore thin. In July 1928, the sheriff and one of his deputies arrived at Marija's house in Winona. Finding her not at home, they presented her daughter Julia with a warrant, confiscated the supply of liquor, and eventually arrested the moonshiner herself. When Marija stood trial and the prosecutor questioned the sheriff about the raid, he responded that he had taken seventy-five bottles of alcohol from her house. The court reporter captured Marija's indignant outburst from the defense table, where she was representing herself: "There were only forty-two bottles!"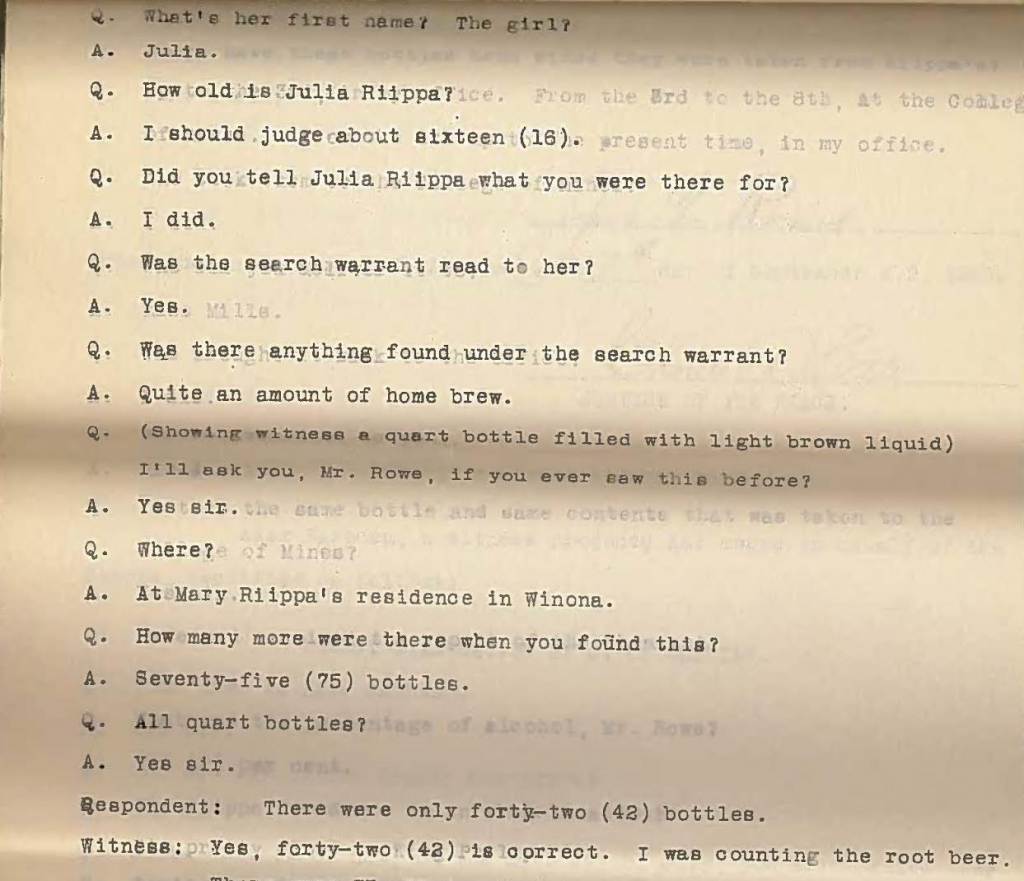 So, what family history insights can I take away from these files? First of all, the family legends were, amazingly, true. Great-Grandmother Marija was a moonshiner, and she had done well for herself: two witnesses testified that she was charging $0.25 per glass of whiskey and a dollar for a pint. Documents in the civil suit told me that she had sued the Houghton County Road Commission in 1927 after one of their trucks collided with her touring car–another detail from the stories that proved accurate and testified to her success. In addition to confirming family lore, the court files showed me more about Marija as a person: she was a tenacious woman who kept going in spite of what life sent her way; she was enterprising, and the number of people testifying that they had purchased from her shows that she knew how to develop a customer base; and she was proud and not about to let the sheriff err in describing her moonshining, even if she incriminated herself in the process.
With some patience for making sense of the Houghton County Circuit Court Records, you, too, might uncover family secrets, the truth about family legends, or a vivid personality to add new understanding to a distant past. Staff of the Michigan Tech Archives are always ready and eager to help you begin your research into this fascinating collection. Simply stop by during normal business hours, e-mail copper@mtu.edu, or telephone (906) 487-2505.
---