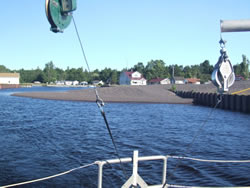 This is the fourth year of summer Geotours of the Keweenaw, led by Bill Rose (GMES) and Erika Vye. The tours are all about Keweenaw Geoheritage and feature the RV Agassiz.
Five different one-day geotours are offered (see links for more details):
July 22: Glacial Geology
July 24: Lavas and the great rift
July 25: The Keweenaw Fault
July 26: Redbed sediments filling the Rift
July 27: Mining wastes and Lake Dynamics
For registration and more information, see this link.