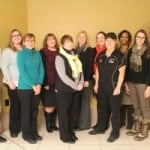 At the MUB on Wednesday night, January 7th, a select group of staff members were honored with Michigan Tech Staff Council Making a Difference Awards.
Humanities' own Jackie Ellenich received the Creative Solutions Award for her vision and her successful work at funding  an international professional training in technical and scientific French to be hosted by MTU. The event also has the support of the French Embassy in Washington DC and the Chamber of Commerce of Paris. It's the first event its kind in the US.
Congratulations, Jackie!