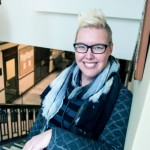 Twenty-first century research and scholarship is changing. At one time, researchers could only submit written manuscripts to academic journals. The journals would send copies of the text to experts in the field who would determine if the manuscripts were fit for publication (peer review). Nowadays, both the content of those manuscripts and the process for evaluating them is changing.
Cheryl Ball is a 2005 PhD alumna of MTU's RTC graduate program, and she's now  an associate professor of digital publishing studies in the Department of English in the Eberly College of Arts and Sciences at West Virginia University.
Ball has been rethinking the process for publishing multimedia-rich scholarship. Along with Andrew Morrison, professor of interdisciplinary design and director of the Centre for Design Research at the Oslo School of Architecture and Design in Norway, Ball is co-principal investigator for a project that that will build a digital tool that will allow experts in a variety of disciplines to review, critique and edit these 21st-century manuscripts.
To support these innovations the Andrew W. Mellon Foundation has awarded West Virginia University a $1 million grant, the University's first Mellon grant. The three-year Mellon Foundation grant will support the development of Cairn, an online, free and open-source system that will help editors of scholarly multimedia journals, books and data sets engage in building and reading multimedia-rich, peer-reviewed content.
You can learn more about the Ball's work and the grant here.