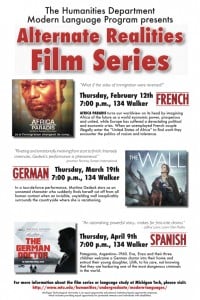 The Modern Language program is excited to kick off its bi-annual Film Series this semester on the theme "Alternate Realities." The films selected for this semester are Africa Paradis, The Wall, and The German Doctor. All have English subtitles.
The first event is the French-language film Africa Paradis, which will screen this Thursday, February 12 at 7:00 pm in Walker 134. Africa Paradis turns our worldview on its head by imagining the Africa of the future as a world economic power, prosperous and united, while Europe has suffered a devastating political and economic crisis. When an unemployed French couple illegally enter the "United States of Africa" to find work, they encounter the politics of racism and tolerance.
There will be opportunities to learn more about our language programs and study abroad opportunities, as well as refreshments.
The event is free and open to the whole campus and the community. For more information, please email Dr. Ramon Fonkoué.