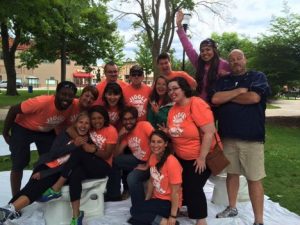 When I first came into this co-op, I had no idea what to expect. I've now been at Kohler for ½ a year and I can honestly say I have never had a dull moment here, and I love working as a technical writer. I could go on and on about how every day I feel lucky to work with such kind, witty, silly, and smart people, or how every engineer I've collaborated with has inevitable become a mentor and a friend, or how exciting it is to be trusted to manage so many projects for so many products across Kohler's different platforms. I could honestly go on for days about how much I appreciate and enjoy this opportunity; instead, I'll share one of my favorite memories here at Kohler.
My favorite memory was on NPD day. NPD (New Product Development) day is a day where the company takes a whole day off of work to have a picnic, present awards, and organize different team building games. We began the day by watching videos and recognizing teams for their hard work in product innovation, top sales and various other categories. Morgan and I kept on raving about how amazing it was that Kohler took the time to make goofy videos, present tons of awards, and make food and activities for their employees to enjoy. During one of the silly videos starring some of the Kohler's head executives, I remember Morgan leaning over to me and asking, "What other company does this?" While the whole day was great, my favorite memory was definitely the first game we played.
The game consisted of a few team members, a basketball, and a small bangle like ring with long strings of rope attached. The goal of the game was to balance the basketball on the ring by holding the ends of the ropes. To win, we needed to get the ball, ring, ropes, and team through 3 wooden doorframes around the park faster than the team we were competing against. Each door was further away than the last, and more importantly, smaller than the last. There were only two rules – if the ball touched the floor or if any of the players held anything besides the ends of the rope, the team had to return to the starting line.
We started with a really intricate plan to weave our ropes together to make a basket. In theory it was a great idea, however in practice, not so much. We ended up spending the first 30 seconds or so making a huge web of ropes that was 50% a huge mess and 50% quite possibly the poorest basket ever made. Caught in the moment, we were all throwing rope around a ball without any sort of effective "securing". Maria shouted out from the sidelines to try something else because the other team was already moving. Instead, we went for it and made it about 2 feet before our contraption fell apart. We ran back and started untangling the huge mess we had made for ourselves as the other team very slowly inched their way to the first door. At this point everyone was shouting different ideas and flustering the person who had -at that time- taken control. Two of my team members and I stood back and couldn't help but laugh at the irony of how poorly our Tech Comm team was communicating with each other.
At some point I shouted out, "Why don't we put the ring on the floor, put the ball on top, lift all of the ropes up like we're making a ponytail and then make one big knot, then we each grab an end and run through?" Immediately everyone started untying our previous basket weaving idea and followed my suggestion. We looked over and the other team was far ahead but still moving quite slowly, so we knew we still had a chance. We all grabbed our rope and literally went racing through the doors screaming with excitement. The other team members who sat that game out, were running alongside us, cheering us on as we went through each door. When we finally reached the last door and all carefully maneuvered our ways through, we all let go of our rope and started screaming and hugging. The rest of our team came running over to celebrate with us as we chanted and gave high-fives. I remember feeling closer to my coworkers, happier with the hard work I'd been putting in, and laughing so much, I was sore the next day.
The whole day reminded me that there are still companies that believe in the "work hard, play hard" mentality. It also taught me that someday, I aspire to work at a company that values and rewards hard work. I honestly love what I'm doing here and know I will miss it so much! I think this co-op has not only given me much needed real-world experience, but it's also opened my eyes to some of the traits I want (no- require) my full time career to offer me. While there are so many things that I respect and admire about Kohler, I have to admit, their easy going nature and spice of fun that's sprinkled into everything they do, is what really draws me to them. Kohler also has a way of making you feel like you belong- whether that be to a team or a department, or a platform in general. I know that my experience in particular has been supportive, silly, welcoming, and just overall incredibly worthwhile. I feel really lucky to have experienced this all while still a student since I know have a glimpse of what's to come after school!