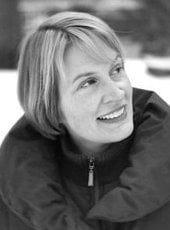 Stephanie Carpenter (HU) has been named winner of the 2017 Press 53 Award for Short Fiction for her short story collection "Missing Persons."
Besides publication by Press 53 in October, Carpenter will receive a $1,000 advance and a quarter-page color ad in Poets & Writers magazine. The judge for the competition was Kevin Morgan Watson, Publisher and Editor-in-Chief of Press 53.
Of the winning manuscript, Watson says, "These stories are diverse in voice, setting, conflict and style. Ms. Carpenter's skills shine in this collection, as does her ability to step into the shoes of a wide range of people while peeling back the complex layers of their lives. For a group of stories to rise above 230 other manuscripts competing for my attention, every story has to deliver an interesting, satisfying and powerful experience, and 'Missing Persons' did just that. I'm looking forward to sharing this collection of stories with readers everywhere."
Carpenter's prose has appeared in journals and magazines such as Witness, Nimrod, The Cossack Review, Big Fiction, The Crab Orchard Review and others. She teaches creative writing and literature at Tech. "Missing Persons" is her first book-length publication.