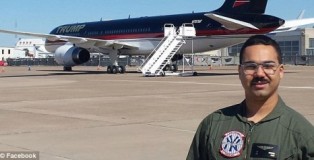 A Michigan Tech alumnus was among the military personnel killed when a US Marine Corps KC-130 transport plane crashed near Itta Bena, Mississippi, Monday.
US Marine Corps Sgt. Julian M. Kevianne was among the 15 Marines and one Navy Corpsman on the flight. According to the New York Times, the plane took off from Cherry Point, North Carolina en route to El Centro, California. There were no survivors.
Sgt. Kevianne was a 2007 graduate of Michigan Tech with a degree in humanities. He joined the Marines in 2009. He came to Tech from Detroit's High School for the Fine and Performing Arts.
He was very active on campus, serving as a resident assistant, a member of the National Society of Black Engineers, Young Democrats, Social Dance Club and the Lemmings broomball team.
Kevianne worked as a management assistant in McNair Hall where he was a student supervisor in the dining hall, helping students with everything from furniture requests to the Husky Host Program. During the winter semester break he organized and facilitated a Christmas dinner for McNair residents and provided transportation for incoming international students. His efforts were recognized when he was named the Student Employee of the Year in 2008.
University President Glenn Mroz says Sgt. Kevianne's time at Michigan Tech made the University a better place.
"We oftentimes thank our students for what they bring to Michigan Tech and what they leave at Michigan Tech to make it a better place for others.  Julian's involvement in so many aspects of the University and the quality of his involvement defined that spirit.  It was not surprising that he aspired to one of the most significant commitments a person can take in defense of all of us. Our thoughts and prayers go out to his family as we all struggle with this tragic loss of an amazing person," Mroz says.
Condolences may be shared with the family through Sgt. Kevianne's brother:
Carlo Kevianne,
15735 Plainview Ave.
Detroit, MI 48223
A
gofundme
site has been established to help the family with travel expenses to the funeral.