CCM major Cyndi Perkins has published her novel, More Than You Think You Know (Beating Windward Press). More Than You Think You Know is a women's road (river) trip novel about ships and friendships, crashes and hot flashes. Released in July 2017, the story follows Hailey, Robin and Trish, three women piloting the 44-foot luxury trawler Blackout through the Heartland Rivers from Chicago to the Gulf of Mexico. Stayed tuned for Cyndi's reading in Van Pelt on Oct. 19.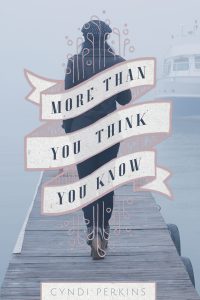 Cyndi has sailed Lake Superior, the Heartland Rivers, and the Eastern Seaboard since 1995. She and her husband survived two 6,000-mile circumnavigations of America's Great Loop aboard their 32-foot DownEast sailing vessel Chip Ahoy. Cyndi writes and edits for Michigan Technological University digital and print publications. But did you know that she is also an award-winning journalist who worked for 10 years at the Daily Mining Gazette and who wrote the popular "Line of Sight" column? Her nautical writing credits include Cruising World, Latitudes & Attitudes, Good Old Boat, PassageMaker, Southwinds, and Northern Breezes magazines.
You can find Cyndi's book on Amazon, and more about her adventures and work on her website.