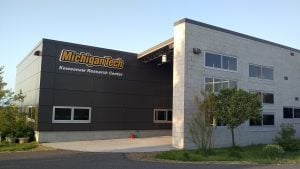 I spent my spring and summer semesters in 2018 working at the Keweenaw Research Center (KRC). My main job was writing project reports—actually, it was writing one project report. There was a two-year research effort about tank ice cleats that was wrapping up when I started the KRC, and I was given the final report for it. The job was a classic cubicle farm, reports-and-spreadsheets deal. Most of the work they do involves military contracts based on ground vehicle testing. Absolutely everything about the job was foreign to me. I'd never done real technical writing before, and I was dumped right into it with very little actual instruction; I only got a folder of information and the gist of the project.  Because of that, though, it was one of the fastest learning experiences of my life.
Having a trial by fire like that as my first internship was amazing in terms of preparation for other jobs. Since I was thrown in with little direction, I had to make my own way, wading through the confusion about how the data was organized, interpreting all the raw scientific data, and gleaning what the engineers had neglected to mention in their briefings. All my work since then has been incredibly smooth in comparison—knowing how rocky a starting point can be gave me an appreciation for every bit of help I get.
The actual experience I gained from the job was hugely eye-opening, too. The way the KRC is run is very informal in some places, but mind-bogglingly procedural in others. The cognitive whiplash from switching between the two nearly snapped my neck. On top of that, there were a hundred little things every day that I had to learn, or at least become familiar with, like modeling software and weird physics concepts. I hadn't really thought about whether I wanted to work as a technical writer in an engineering field, but I'm glad I tried it—I would never know whether I liked it if I hadn't. I definitely learned more about my limits from this job.
Looking back on it, I think I would've liked my first internship to be a bit more relaxed, but sometimes getting burned is the best thing that can happen to you—you might just come out fireproof.