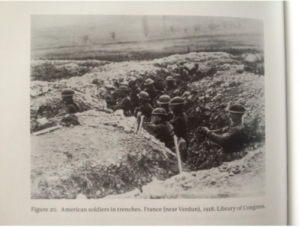 As part of World War I & The Copper Country, a full-scale reconstruction of a section of WWI firing trench on the front line can be viewed through our webcam! This webcam will be available until November 11.
Still Image | Streaming | Time Lapse
An immersive outdoor trench exhibit invites the public to imagine how soldiers experienced life in the trenches, including "going over the top." This project is headed by Drs. Stanley Vitton and Kris Mattila (Civil and Environmental Engineering), and it involves student and faculty participants from across campus. The exhibit showcases an actual winding trench dug several feet into the ground and spanning several yards on the campus green. The exhibit is multifaceted featuring an acoustical installation simulating the sounds of battle designed by Christopher Plummer and Sound Design students (Visual & Performing Arts); looped recordings of memorial poetry and selections from soldier memoirs; and informative signage conveying historical facts about trench structure and trench warfare. Prospective plans include a commemorative ceremony to fill in the trench on November 11, 2018 with the participation of local VFW and American Legion groups, ROTC, and JROTC.
Image: Figure 20, Lubin 2015. American Soldiers in trenches, France (near Verdun). 1918 Library of Congress