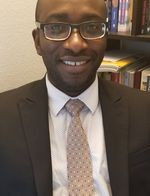 Dr. Isidore Kafui Dorpenyo, 2016 RTC graduate, has published his first book, User Localization Strategies in the Face of Technological Breakdown: Biometric in Ghana's Elections published by Palgrave Macmillan Press, 2019. The book is an extension of his RTC PhD dissertation work. Dr. Karla Saari Kitalong of the Humanities Department at Michigan Tech wrote the foreword to the book.
"Dorpenyo argues that the success of a technology depends on how it meets the users' needs and the creative efforts users put into use situations." He "identifies and advances three user localization strategies: linguistic localization, subversive localization, and user-heuristic experience localization, and considers how biometric systems can become a tool of marginalization". – Dr. Karla Saari Kitalong
Dorpenyo is currently Assistant Professor of Professional Writing and Rhetoric at George Mason University, USA. His research focuses on election technology, international technical communication, social justice, and localization. He co-edited a special issue of Technical Communication focused on technical communication and election technologies. Dorpenyo has also published in Technical Communication Quarterly, the Journal of Technical Writing and Communication, and Community Literacy journal.