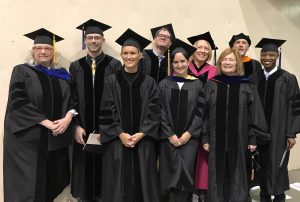 The Rhetoric Theory and Culture PhD program had five graduates receiving their degrees at Michigan Tech's Spring Commencement on Saturday April 29.
Pictured here are faculty advisors and graduates, from left to right, Jennifer Slack, Nate Carpenter, Kirsti Arko, Joel Beatty, Stefka Hristova, Vicky Bergvall, Ann Brady, Ron Strickland and Yunana Ahmed.
Also participating in the ceremony but not present for this photo was Professor Emerita Beth Flynn.
Congratulations!