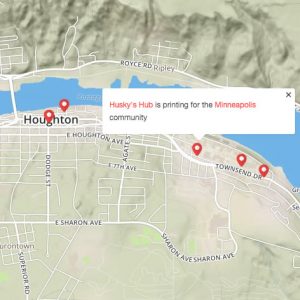 How Green Is 3D Printing?
As a comparatively new technology that has not yet been fully integrated into the larger manufacturing supply chain, 3D printing represents an opportunity to do things differently.
Associate professor Joshua Pearce's Open Sustainability Technology group at Michigan Technological University proposed a more extensive categorization system that allows 3D printer users to embed their own recycling codes onto 3D-printed parts. Parts made from ABS, for instance, might have an ABS recycling logo on them so that they can be recycled and reused to manufacture other ABS products.
I see us moving more towards a form of truly distributed manufacturing, where individuals fabricate custom products for themselves from free and open-source digital plans. —Joshua Pearce
Read more at Engineering.com, by Michael Molitch-Hou.
In the News
Research by André Laplume (SBE) and Joshua Pearce (MSE/ECE)) was covered by Strategy+Business in an article "What Does the Rise of 3D Printing Mean for Global Companies?"
Construction Dive quoted Joshua Pearce (MSE/ECE) in an article on "How will 3-D printing technology disrupt conventional construction practices?
Joshua Pearce (MSE/ECE) is quoted by El Heraldo in La arquitectura se preparea para una 'revolución industrial' en 3D. El Heraldo is a leading newspaper in Colombia.
In Print
Recent PhD graduate Bas Wijnen (MSE) and undergraduates Emily Petersen (MSE) and Emily Hunt (MSE) co-authored with Joshua Pearce (MSE/ECE) a paper titled "Free and open-source automated 3-D microscope." It was featured in The Journal of Microscopy.