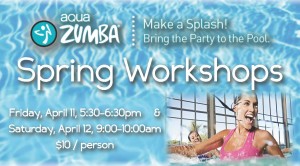 Aqua-Zumba: A latin inspired, easy to follow, calorie burning, muscle toning fitness party — in the water!
Combining the Zumba fitness formula with Aqua fitness, this fun, effective workout is fit for everyone. Women, men, and children are all welcome! Aqua-Zumba provides a great, low-impact workout for those just starting a fitness routine, recovering from injury, with joint sensitivity, or pregnant. The same great music from Zumba, with a slower aquatics pace. Take it easy and enjoy the fun, or challenge yourself with added variations and reps. Make your water workouts fun and exciting with Aqua-Zumba!
In these special, one hour workshops, Cindy will be breaking down the moves before each song to help you adapt to the water, understand the steps, and enjoy your new workout.