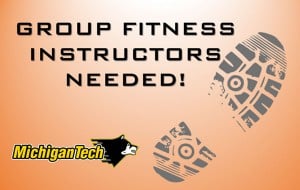 Love fitness? We do too! Michigan Tech Community Programs is looking for group fitness instructors that are as passionate about health and fitness as we are. We offer a wide range of regularly scheduled programs, including high impact TRX, boot-camp and spinning conditioning classes to low impact yoga and youth programming. All types of instructors/trainers are encouraged to apply. For current programming options, visit us at www.michigantechrecreation.com/programs.
Community Programs hourly instructors are responsible for preparing and conducting 50-minute fitness classes, and for the maintenance and care of Michigan Tech fitness equipment and facilities. All instructors are required to be CPR/First Aid certified (certification provided) and must be 18 years of age or older. Hourly instructor compensation is calculated based on training, certifications, and years of experience.
All applicants are required to provide:
Current contact information, including copy of government issued ID, e-mail, phone number and home address.
Current resume, including all fitness and instructing experience
Copies of any/all fitness/instructor certifications
Proposed class description and class outline (upon request)
Applicants will be required to teach a sample class for the Recreation Director and current Community Programs instructors (upon request).