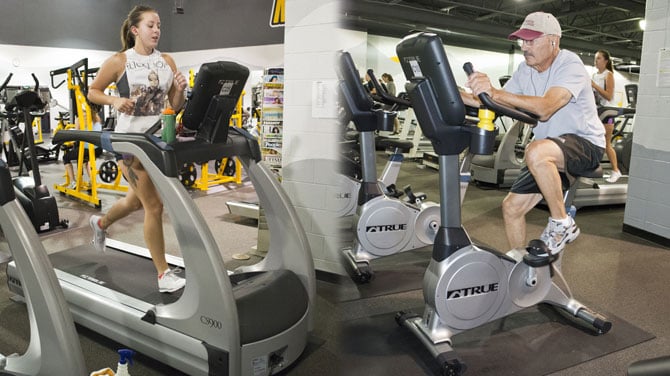 HOUGHTON, Mich. – The fitness center at Michigan Tech's Student Development Complex recently installed 12 new pieces of cardio equipment.
Nine of the items come from TRUE Premium Fitness Equipment with two recumbent bikes, three upright bikes, two treadmills and two ellipticals. They are sleek and display an all-new industrial design. Pieces are comfortable, smooth and quite. All items have a safe and easy entry for all ages and fitness levels.
Also added to the center were a helix lateral trainer and two Schwinn spin bikes.
"We are so fortunate to purchase such high quality equipment for our users," said Jada Gullstrand, Michigan Tech's Director of Recreation, Programming & Membership. "I believe that the students, staff and community members will all agree that this is a huge step in the right direction for our facility. Commercial grade, a modern look, and user-friendly machines are what these pieces bring to our fitness center. Our members can continue to depend on our equipment to help them reach their individual goals."
Other recent updates to the fitness center include complimentary lockers located inside that are perfect for holding smaller personal items such as keys, phones and ID cards. Expanded personal training services are also offered with four staff members.
The fitness center is open to the public and serves Michigan Tech students and staff as well as the community. SDC memberships and locker rentals are available for purchase in a variety of length options and include use of the fitness center, the pool, multipurpose room (complete with running track, basketball and volleyball courts), racquetball courts, and the shooting range. Personal training and fitness classes are also available at the SDC through community programs.
For more information about Michigan Tech Recreation, memberships and programming, visit MichiganTechRecreation.com or on Facebook at Michigan Tech Recreation.