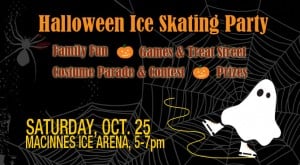 Witches, goblins and ghosts! Oh my! Dress up in your favorite costume and join us for the 3rd Annual Halloween Skating Party Saturday, October 25, 5:00-7:00 p.m. in the MacInnes Ice Arena.
This event, hosted by the Michigan Tech Learn to Skate Program and the Michigan Tech Figure Skating Club, features family fun, games, treat street, a costume parade and contest.
Admission is $7. Purchase tickets at the SDC Ticket Office.
For more information, contact Michigan Tech Recreation at 487-2975 or visit http://www.michigantechrecreation.com/programs/youth/ice-skating/HalloweenSkateFlyer.pdf.