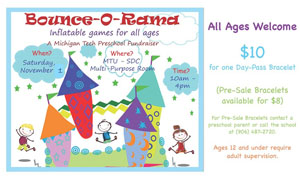 Bounce, jump, run & play at Bounce-O-Rama! This Michigan Tech Preschool fundraiser event will take place Saturday, November 1, from 10:00 a.m. – 4:00 p.m. in the SDC Multi-Purpose Room. Mind Trekkers, bounce house, toddler area, velcro wall and more!
Pre-sale tickets are available for $8 from a preschool parent or call the school at 906-487-2720.  $10 at the door.
For more information, visit Bounce-O-Rama.