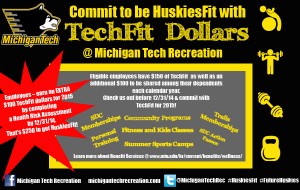 ​There are many ways you can put your TechFit dollars to work for you and your family. SDC memberships, personal training sessions, community programs, fitness and kids' classes, summer sports camps, trail memberships, and SDC action passes are just some of the ways you can use your TechFit dollars.
Have you used your 2014 TechFit dollars? Eligible employees receive $150 for themselves as well as an additional $100 to be shared among dependents each calendar year. Don't let them go to waste!
AND you can earn an extra $200 for 2015 by getting your annual physical and completing the Health Risk Assessment by 12/31/14! That's $250 to get Huskies Fit!
For more information about TechFit, visit
http://www.mtu.edu/hr/current/benefits/wellness/techfit/.
For all the latest information on SDC and trails memberships, personal training, camps and community programs, visit us online at www.michigantechrecreation.com, on Facebook at Michigan Tech Recreation, and on Twitter @MichiganTechRec.