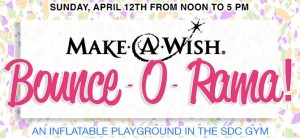 Bounce, jump, run & play with the Michigan Tech Huskies at Bounce-O-Rama!
This Make-A-Wish fundraiser event, hosted by the Michigan Tech Student-Athlete Advisory Committee, will take place Sunday, April 12, from 12:00-5:00 pm in the SDC Gym.
Pre-sale tickets are available until April 11 for $8 at the SDC Ticket Office. $10 at the door.
For more information, visit Bounce-O-Rama.