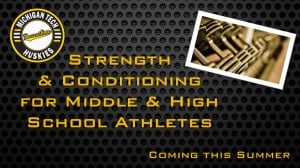 Strength & Conditioning Program
​
Michigan Tech Recreation will be offering a Strength & Conditioning Program for Middle and High School Athletes this summer. The program is open to girls and boys entering grades 6-12 in Fall 2015 and will include speed and agility training, strength training and conditioning training.
Two six-week sessions will be offered, June 8 – July 17 and July 20 – August 28. Participants meet three times/week for an 1 1/2 hour training session. Class size is limited. Cost per session is $175 or $335 for both. Eligible Michigan Tech employees may use TechFit dollars.
For more information or to register, visit Strength & Conditioning Program.
Commit to be HuskiesFit in 2015!