Revert allows you to restore any previously published version of a page or include file to the staging server. Reverting a page to a selected version makes that chosen version the one that is available for editing on the staging server. It must then be published for that version to go to the live site.
To revert a page to a previous version in the row for the desired version in the Versions screen open the More Actions menu and select Revert.

From the confirmation window you can view the chosen version by clicking the link within the text before clicking the blue Revert button to confirm the selection.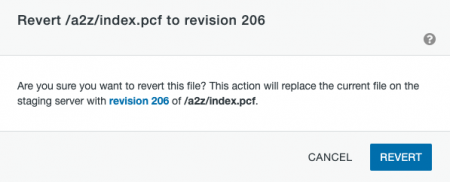 You can also view the version by selecting Page under View menu in the More Actions menu for the desired revision.