One of the main ways we create value here at Michigan Tech is educating students. Our goal is to get the student in the classroom with a calm mind and ready to learn. Anything that gets in the way of that is an opportunity for improvement.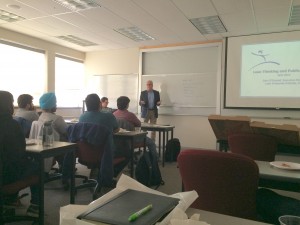 We used to think our job was to just take care of the person in front of us. But we've discovered that what happens before they get to us and after they leave us impacts that person as well. Think of when you go and see a doctor. Maybe you were supposed to come early to do some paperwork. Or maybe you weren't sure if you really needed medical attention, so you waited too long to make the appointment. Or maybe the waiting room is crowded with sick people. Then you see the doctor. Afterwards, you might not have enough money to pay for the prescription. Or you didn't really understand the doctor's instructions. Or you don't agree with the doctor's diagnosis, so you don't do what she said. The aim of the system is a healthy patient. Even though the doctor did her job perfectly, these before and after things can have a negative impact on achieving that aim.
In the same way, what happens to a student before they get to the classroom and after they leave the classroom impacts the ability of faculty to educate that student. If students are worrying about their financial aid, they aren't in the classroom with a calm mind, ready to learn. The same goes for problems getting an appointment with their academic advisor during registration, having long lines at the dining hall, or not understanding their homework instructions. These are all examples of opportunities for improvement using Lean principles, because they affect the students' ability to fully participate in their education.
The next time you see a frazzled student leave your desk, call the Office of Continuous Improvement. We can coach you through a process improvement in your area.
If our objective is students with a calm mind, ready to learn, what are some other ways we could identify areas that are opportunities for improvement?