From the Inbox
"I recently visited the 40-acre site near Gratiot Lake where a classmate and I viewed the area where we planted red pine seedlings with a planting machine in 1958. The seedlings we planted then were three logs high and measured about 10 inches diameter breast high." -Larry Golin '58 Forestry
Husky Connections
"I'm starting a new job thanks to a connection with a fellow MTU alum who works there. Totally random connection too, she saw me wearing a Michigan Tech hoodie waiting for lunch at a food truck and said hi. She was working for another mining consulting firm at the time and we stayed in touch ever since. That is one of the best parts of my degree from Tech is the instant connection you have with other alums." –Walt '08
From Facebook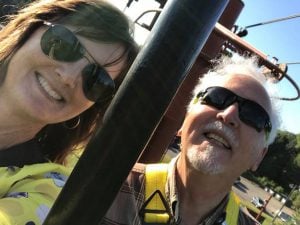 "Funny story: This weekend I was at a Ski Patrol meeting and during that meeting we did a bit of training. My training partner, from Minnesota, turned out to be, likely (since there were only two at the time and he looked familiar), my statistics prof from Tech!!! Such a small world. For alumni reading, it was Peter Wollan. I was at Tech from 88-92. I didn't have the heart to tell him I hardly attended his class. It was part of my "Thematic" 9 credits. Not a clue what the other 6 credits were." – Kaet '92
Comments from a Facebook post about the passing of former Tech President Ray Smith
"Wonderful man and leader. Had the pleasure of getting to know him while I was at Tech from '65 to '69. RIP. – John D.
"Dr. Smith along with Prof. Joe Kirkish helped us get Tech's first educational FM station on-the-air; WGGL-FM." – Stan S.
"I was at Tech 1973-1977. I remember the administration building referred to as Fort Smith." – Kenneth H.
"Have his autograph on my diploma." – Ellie C.
"RIP Great Man, President Raymond L. Smith." – Genny Z.
Comments from a Facebook post about 906 Day
"I graduated in 2014 and moved to the East Coast afterwards. I still keep my 906 phone number and I am proud of it. Reminds me of good old days back at Tech." – Jasem B.
Comments from a post about the Tech Wives cookbook
"I met my husband at Tech… although while in school (late '90s) we were all about the $0.99 Whopper Wednesday! I do use a B&B recipe variation to make my pickled eggs." – Stacey K.
"I'm not sure when the Michigan Tech Wives Club ended. It was for wives of MTU students. I think early 80s." – Cynthia H.
Comments from a Facebook post about relocating wolves to Isle Royale
"Though I fundamentally disagree with the decision, it will be interesting. The case for wolves in Yellowstone and ISRO are vastly different, and it feels to me like the park has gone out of its way to ensure an allure for visitors and continued research, for a "playing god" philosophy that is inherently in opposition to the core values of the NPS. Still, interesting!" – Darren T.