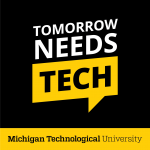 Welcome to Tomorrow Needs Tech, a series of podcasts with President Koubek and prominent Michigan Tech alumni, discussing topics like computing, leadership, industry, and diversity.
Listen below, or you can also find Tomorrow Needs Tech on the following platforms: SoundCloud, iTunes, Stitcher, and TuneIn.
---
Podcast 1: Tomorrow Needs Computing
Michigan Tech President Rick Koubek sits down with alumnus Dave House '65 to talk about Michigan Tech's future as a leader in computing and technology.