Snowfall Contest Winner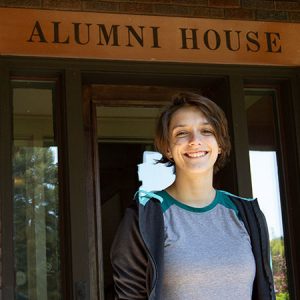 Every Husky has a story about snow, and every year our snowfall contests give people a chance to put their extensive knowledge of snow to the test. This year, Kailee K., a class of 2020 medical lab sciences major, took home the prize in the annual contest with her guess of 192.25 inches. The snowfall measured at the KRC is our standard for the contests; their measurement for 2018-19 was 192.38 inches.
To get in on our monthly and annual snow contests in 2019-20, check out our snow page next fall.
Snowfall Totals
According to FunInTheUP.com, the Houghton County snow record of 354.1 inches from the winter of 1978-79 has been surpassed. With 4.0 inches on April 30, the winter of 2018-19 made it to 357.2 inches. The new record was totaled by Steve Jurmu at Calumet (Tamarack location).
Late season snowfall—April 28, 29, and 30 and May 1, 8, 9, and 19—raised the total to 362.8 (we hope it's a final total).
The top five snowfall amounts ever recorded in the Upper Peninsula according to FunIntheUP.com:
390.4" – 1978/79 – Keweenaw county (near Delaware)
384.0" – 1996/97 – Herman
367.4" – 1995/96 – Keweenaw county (near Delaware)
362.8" – 2018/19 – Tamarack location (near Calumet)
354.1" – 1978/79 – Houghton county airport
Snowfall measurement at Michigan Tech's Keweenaw Research Center located next to Houghton County Airport for 2018-19 was 192.38 inches, although their website gives a disclaimer that their measurements aren't accurate on days with wind because the snow gets blown off their board.
No matter how it was measured, 2018-19 was very snowy, especially February through May.
What are your snow memories? Comment below.