By Allison Neely | University Archives and Copper Country Historical Collections
Spring is definitely in the air at Michigan Tech! Papers have been turned in, classes have ended (at least for the spring), and another class of crazy smart Michigan Tech students have graduated.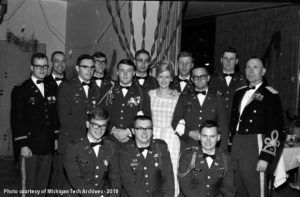 While spring in the U.P. tends to be snowier, cooler, and briefer than other places, students at Michigan Tech know how to embrace these fledgling days of spring. For students, cabin fever quickly sets in following Winter Carnival, but before you know it our hearty Michigan Tech students can be seen rocking flip flops and shorts long before the snow fully recedes from campus. A slew of outdoor activities, campus-wide entertainment, and events each year helps get students through to the end of the academic year.
Even in its early years, Tech students enjoyed a variety of outdoor activities and events to beat the winter blues. One of the historically popular spring events on campus was the annual Military Ball. Sponsored by the Army and Air Force ROTC units, the dance was the second largest of the academic year and the biggest of the spring term. Typically each year had a theme with coordinated decor along with a noted live band. For instance, the 1962 annual dance was themed "Stairway to the Stars," which included an entrance made to resemble a winding stairway and the cafeteria was fitted out with an "astronomical design with a fountain in the middle." Much like the Winter Carnival celebrations, the Military Ball featured a Queen coronation with the ROTC groups sponsoring candidates and a judging committee made up ROTC members or cadets.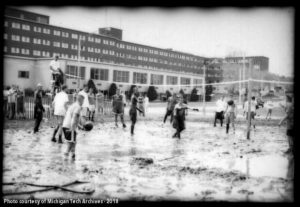 Spring in recent decades saw the addition of Greek Week festivities, which featured a wide variety of social activities. While the week-long celebration was a beloved campus event among the Greeks, its events were largely geared towards students involved in fraternities and sororities on campus and less of a community-wide spring celebration.
Later, Tech saw the incorporation of a more inclusive spring carnival called the Tech Carney. The Carney featured a traditional Flea Market, a balsa wood airplane contest, bike race, frisbee and yoyo contests, and a big party with a band. By the early 1980s the Tech Carney had morphed into a larger campus-wide outdoor celebration called Spring Fling. Hard to believe now, but Spring Fling at Michigan Tech has its origins in 1980. Originally called Spring Bash, the event included four live bands, a lobster bake, and frisbee show; along with Bocce Club and Volleyball Club tournaments and canoe races. Once again, the event was revised in the late 80s as Ventures Day before becoming what we know today as Spring Fling.
Officially started in the spring of 1990, Spring Fling was hosted by the Memorial Union Board (MUB) and held on the Friday of the 13th week of the spring semester. In its first year, approximately 50 organizations participated in the end-of-the-year carnival, which featured food and demonstration booths, activities like fencing, folk dancing, races, ultimate frisbee, and repelling. Tech Tea Time provided a sneak peek ahead of the festivities and in its second year featured refreshments (pizza and pop), a review of previous year's highlights, and performances from the Michigan Tech Student Foundation, Alternatives Unlimited, and The Troupe.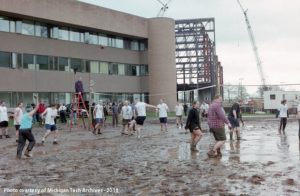 Among Spring Fling traditions has been the selection of a Spring Fling King, which began with the 1992 event. Eight finalists were selected to compete for the title of Spring Fling King, duking it out in the form of a talent competition. Winners received a crown, plaques or cash prizes. In past years Spring Fling has included special entertainment sponsored by the Student Entertainment Board. Performances have included local bands, a Tech Idol competition a la American Idol, as well as headliners such as Verve Pipe, which played during the 1995 Fling.
Likely the most popular event in the past has been the Oozeball Tournament. Our Flashback Friday photo features the 1999 Oozeball Tournament, a crazy mud volleyball tournament played in six inches of mud. According to an article written about Oozeball in 2001 here are the top 3 reasons why you would play:
You like playing volleyball in weird conditions
Mud baths are good for your skin
You haven't played in mud much since you were five and you kind of miss it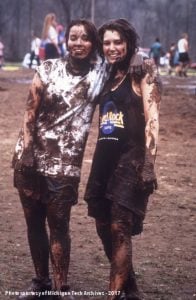 As you can imagine, the weather doesn't always cooperate for Spring Fling, but that's also a long-standing tradition at Tech. In 2010, high winds and mild snow interrupted students' merriment, forcing organizers to postpone the motorcycle show and in 2013 Tech sadly had to cancel Spring Fling altogether due to bad weather. You might be wondering about the Oozeball Tournament and weather conditions. According to our sources, the Oozeball Tournament usually was held unless the mud froze. Hearty Huskies have been know to dive into the chilly mud bath even after the tournament ended.
Spring festivities have been a staple at Tech for generations. Whether it's dancing, lounging in a hammock, or diving headfirst into a mud bath, Tech students from all generations have made the most of springtime in the Copper Country. Here's to another great spring and many, many more to come!