From Facebook:
"I do believe a Taco Bell 100M dash was a thing in the early 90s" – Susan C.
"I remember walking downtown late at night with the snow softly falling with no other noise or sounds.  It was perfection" -Chris Z.
"In 1959 got my BS in Chem Eng.  Back then none of that existed (new eclectic diners, boutiques).  Still, best years ever! Greetings from Caracas" -Enzio M.
"Downhill skiing during a 1984 snowstorm: On Pewabic St., starting from Houghton High School to a stop directly in front of the Hallmark Store (and one of Houghton's finest walking the beat) on Sheldon: skeptical policeman– "Evening boys, how long do you expect to be skiing this evening?" Us– "Oh hello officer, it seems we've just finished up'." -Bill S.
"(I remember) Watching the Northern Lights from the roof of our garage, with everyone in the neighborhood clapping and cheering like it was fireworks."  -Becky S.
"Still go to the Ambassador, Downtowner, Dog House regularly. After I graduated from SBEA, raised my daughters who both graduated from Tech and one son-in-law. They moved away but love coming home for Winter Carnival and Ambo pizza!"  – Gary J.
"In all seriousness though, the beauty of a fresh snowfall in the UP can not be beat. I loved every second of the winter up there (even the sometimes -40 wind chills)" -Eric S.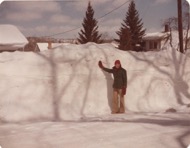 "The winter of 78-79"  -Melodie H.
"Well when I was at Tech in the early 70s we drove to Marquette for fast food. I did love the pasties at the Kaleva Cafe. My roommate made really great pasties too"  -Carol B.
"Pasties. Had to drive to Marquette for McDonald's. No such thing as Starbucks in the 70s." –Steve B.
"Taco Bell after last call at any of the Houghton/Hancock drinking establishments. Drive thru was open until 4 am… and we would be back at Tech for an early round of golf by 6 am. Summer '93 and '94. Great times." –EJ L.
From Parent Network on Facebook:
"As our kids get ready to take their finals, I wanted to share with you "why it is all worth it." In these photos are people that graduated from Tech 30 years ago to 6 months ago to a current Freshman. They are people who took a half day off of work to cheer on my daughter and the MTU soccer team or drove 3 hours just to have dinner with their sorority sisters. We are all thankful for the education we received, but more importantly cherish the support and friendships that we made through Tech. This is my "Why Tech." -Michele M.