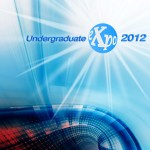 Hundreds of students presented their work–which entails hands-on, discovery-based learning–at the 11th annual Undergraduate Expo on Thursday, April 12, in the Memorial Union Ballroom.
The students comprise 52 Senior Design teams and 25 Enterprise teams–all supported by more than 175 sponsors, mostly from industry.
"The Expo gives the students the opportunity to showcase their hard work, creativity and innovation," says Mary Raber, who oversees Enterprise.
"The students," adds Leonard Bohmann, associate dean of the College of Engineering, "create new things, solve global problems and make lives better–that's what engineers do."
In Senior Design, students explore and solve real industry challenges throughout their senior year–from ideation to realization. Projects range from a prosthetic knee joint to a solar-powered patio umbrella.
In the Enterprise Program, teams of first- through fourth-year students from diverse disciplines operate much like real companies to develop products, services and solutions. Projects include a hybrid electric vehicle, alternative fuels, and efforts to lower the carbon footprint on campus.
In all, says Bohmann, the Expo "is a great way to recognize student accomplishments and build excitement. It also serves as a model for younger students."
The Expo, which is free and open to the public, is a combined effort of the College of Engineering and the Institute for Leadership and Innovation.
Student teams compete for awards. A panel of judges, made up of corporate representatives and Michigan Tech staff and faculty members, critique the projects. Their scoresheets for the senior design projects and enterprise team presentations are used to arrive at the awards presented below:
Senior Design
1st Place – 130: Bioabsorbable Polymer-Coated Metal Stent Degradation Simulation Design;
Team Members: Kristina Price, Brendan Daun, Thomas Faulkner, Erin Larson, Derek Yesmunt, and David Strobel, Biomedical Engineering; and Kelsey Waugh and Matt Gardeski, Materials Science and Engineering
Advisors: Dr. Jeremy Goldman and Dr. Jaroslaw Drelich
Sponsor: Boston Scientific
2nd Place – 113: Economic Recovery of Alloying Elements from Grinding Swarf
Team Members: Alicia Steele, Materials Science and Engineering/ Mechanical Engineering; and Daniel Hein, Michael Wyzlic, and Nicholas Kraft, Materials Science and Engineering
Advisor: Dr. Jaroslaw Drelich
Sponsor: Casting Services Group
3rd Place – 105: Portage Health Noise Monitoring Device
Team Members: J. Ethan Lynch, Shaubhik Bhattacharjee, Trent Jansen, and J. Nathan Willemstein, Biomedical Engineering; and Lynn Giesler, Biomedical Engineering/Mechanical Engineering
Advisors: Dr. Michael Neuman and Dr. Keat Ghee Ong
Sponsor: Portage Health
Honorable Mention
110 Jaipur Foot Improvements:
Team Members Victoria Demers, Mechanical Engineering; Allison Lebovsky, Biomedical Engineering/Mechanical Engineering; Paul Sturmer, Robert Strobel and Marcel Kerkove, Mechanical Engineering; and Stefanie Bass, Biomedical Engineering
Advisors: Dr. Gregory Odegard and Dr. Anil Jain, Jaipur, India
Sponsor: Department of Mechanical Engineering-Engineering Mechanics
102 Cost-Optimized Prosthetic Knee Joint
Team Members: Elizabeth Anne Dancy, Biomedical Engineering; Matthew Goldsworthy, Aram Kim, Laura Maciosek and Anna Miller, Mechanical Engineering; and Kelsy Ryskamp, Mechanical and Biomedical Engineering
Advisor: Dr. Gregory Odegard
Sponsor: Dr. Rajesh Malhotra, All India Institute of Medical Sciences
149 Electric DEF Tank Header Heater
Team Members: Lukas Lund, Alex Kaidan, and Chris Hughes, Mechanical Engineering; and Ron Kaunisto, Civil Engineering/Mechanical Engineering
Advisor: Dr. Gordon Parker
Sponser: John Deere
150 (tied for 3rd HM place) Assault Climbing Device
Team Members: Nick Charters, Alex Cotton, Jeff Kangas, Adam Reich, and Collin Veele, Mechanical Engineering
Advisor: Dr. Adam Loukos
Sponser: Air Force Office of Scientific Research
ENTERPRISE
1st Place – ITOxygen
Team Leader: Garrett Lord, Computer Engineering/Computer
Network and System Administration
Advisor: Bob Maatta, School of Technology
2nd Place – Baja
Team Leaders; Joseph DeHaan, Andrew Glaeser, Brett Schulte
and Matt Rebandt, Mechanical Engineering
Advisor: Dr. Brett Hamlin, Engineering Fundamentals
3rd Place – Aqua Terra Tech
Team Leaders: Zach Guerrero, Environmental Engineering, and Neil
Baltes, Geological Engineering
Advisor: Dr. John Gierke, Geological and Mining Engineering
and Sciences
FUTURE INNOVATORS AWARD (as voted by middle school students from Hancock and Chassell) –
Senior Design
Pet-Friendly Motorcycle Sidecar – TEAM 112
Team Members: Brad Lynn, Joseph Supinsky, and Jan Zlebek, Mechanical Engineering Technology
Advisor: Dr. John Irwin
Enterprise
Robotic Systems Enterprise – TEAM 221
Team Leaders: Colin Putters, School of Business and Economics, and Megan Crowley, School of Forest Resources and Environmental Science
Advisor: Dr. Aleksandr Sergeyev, School of Technology
UNDERGRADUATE EXPO IMAGE CONTEST
1st – Velovations – TEAM 212
Team Leader: David Kravis, Mechanical Engineering Advisor: Dr. John Gershenson, Mechanical Engineering- Engineering Mechanics
2nd – ITOxygen Enterprise
Team Leader: Garrett Lord, Computer Engineering/Computer Network and System Administration
Advisor: Bob Maatta, School of Technology
Honorable Mention
Jaipur Foot Improvements – TEAM 110
Team Members: Victoria Demers, Mechanical Engineering; Allison Lebovsky, Biomedical Engineering/Mechanical Engineering; Paul Sturmer, Robert Strobel and Marcel Kerkove, Mechanical Engineering; and Stefanie Bass, Biomedical Engineering
Advisors: Dr. Gregory Odegard and Dr. Anil Jain, Jaipur, India
PATENT DISCLOSURE AWARDS
Best Technical Specification Award – Magnetically Damped Suspended
Isolation System submitted by Oskar Strojny, Jake Simula, and Brian
Turner
Best Prior Art Review and Competitive Analysis – Scanning Tunneling
Microscope Tip Actuator System submitted by Ryan James, Kyle Smith,
Scott Schmitt, Patrick McGraw, Chris Cerovec, and Lee Anderson
Expo 2012 Website with Photos and Videos coming soon